Why Are Most The LHHATL Men Talking About Shanna Brooks?
Shanna Brooks, the Transgender Female that 50 Cent allegedly said Benzino was dating, is calling out ALL of the men that have starred on Love and Hip Hop Atlanta???
CelebnMusic247.com has just got the tea from Shanna Brooks who is questioning Mona Scott Young "how come 'SHAUNA BROOKS' name has came OUT of MOST of the MAIN mens mouf on Love and Hip Hop Atlanta?"
On Friday, 50 Cent reposted a post from OnlyFans model Shauna Brooks, the Transgender female that was seen in a video speaking with former LHHATL star Benzino.
50 Cent's posts used audio of a conversation between Benzino and trans model Shauna Brooks that suggested they were intimate at one time. Benzino quickly shut down the rumors 50 put out there.
Now, Brooks has responded on Twitter about the controversy claiming what she said was all true.
She said:
My intent is NEVER to 'out' any1 but MY truth is always T while it's PAINFUL to relive PUBLICLY… I'm TIRED of men LOVING girls like us ONLY behind closed doors & treating us as if we're disposable when it's NO longer convenient. They want you to be their toy on their time.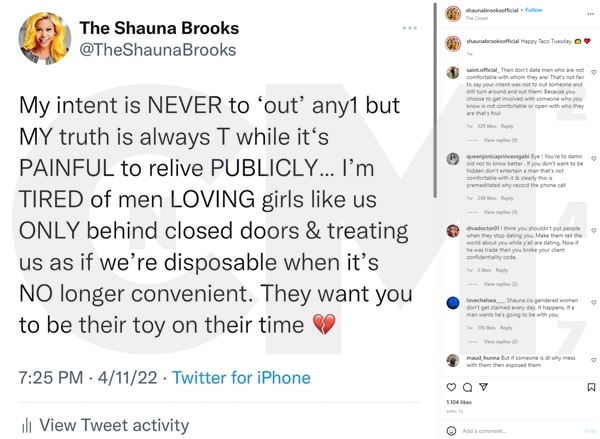 50 Cent has deleted one of the original posts that included the audio between Brooks and Benzino after Zino threatened to sue anyone who slandered him.
Shauna Brooks wants to know why she hasn't been able to say her side of everything on Mona's series.
She states why "I ain't get an opportunity to SAY it MYself?"