Will Joe Giudice Step Up And Apologize To Teresa Giudice??
Real Housewives of New Jersey star Teresa Giudice, 47, and her estranged husband, Joe Giudice, 47, have been through the most trying years of their life for the past four years. Read on to to see that Joe Giudice needs to apologize to Teresa Giudice…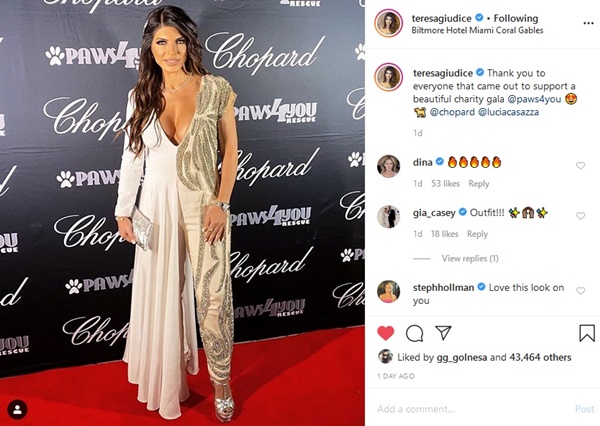 CelebNReality247.com reports that Teresa served time, lost her mom, and started competing in body building competitions. Jail time really played a number on Teresa and fans of Real Housewives of New Jersey watched her transformation.
Teresa is NOT the same woman that she used to be. One thing for sure, her time behind bars made her stronger and a woman that was NOT going to sit down and be quite anymore. She was no longer going to let Joe Giudice make her feel unworthy or be called a "bitch @ss wife" anymore! She really changed.
Unfortunately fans who watched Read Housewives of New Jersey saw that Joe Giudice didn't change at all. He was still stubborn, and most importantly Joe didn't own up to his mistake. He didn't apologize to Teresa and no one did he ask her "would you please forgive me?"
That is all Teresa was looking for. She wanted to see change with Joe. She has been with him for 20+ years, served time for his mistake, stood by his side while they both paid the price for his white collar crime. And let the court system make an example of them both since they were on TV.
She has become a single mom raising four daughters and all Joe can say is "I failed the marriage?"
Give us an F'n break Joe, Teresa deserves much more from your STUBBORN Italian @SS!
An apology and asking for forgiveness would have made a world of difference. Teresa doesn't NEED to come running back to you, nor does she have to apologize for anything.
Pizano, you are in the WRONG 100% and YOU NEED to MAKE THIS RIGHT.
Teresa has NOT filed for divorce, so there is still hope for the Giudice marriage.
What Joe NEEDS to realize is that they both still love each other very much. You can see that Joe really loves Teresa and wants her back, but there is so much hurt, pain, and frustration she is having a hard time forgiving him.
She is still angry that she can never get those months back before her mom died. Her time behind bars was life changing for her and Joe Giudice truly needs to understand that.
Instead, Joe is acting like a wiseguy, but he needs to show some compassion and stop being a testardo!
There is still a spark between them, but Joe NEEDS to man up and suck up his pride and let Teresa know that it will NEVER happen again, that he loves her, and that he will always make sure she is protected from now on.
Teresa told him that was all she wanted from him, love, protection and security.
Can Joe Giudice step up to the plate and be a man, husband and father again?
Currently, he is convinced that his marriage to Teresa Giudice may be over, but there's still evidence they love each other.
Over the weekend Teresa wore a glittery jumpsuit in the first snap, prompting Joe to respond, "??????." She then posted a photo at a spa in a bathrobe, with Joe commenting, "??????."
Joe reaching out to Teresa comes after he shared his thoughts on the current status of their relationship via Instagram stating:
No matter how much ? energy and time I devoted to trying it failed. I did my best and put all efforts into making this a great experience for my family. I did try to address issues in the relationship that bothered me throughout the years in return ? portrayed it as Criticism! My key role was to always to be a great father and husband not the ????.Today I ?, I can't allow others to keep lingering toxins and undesirable demands around me. I choose to have a solid foundation with strong and inspiring people around me in ??.
The couple married in 1999 and welcomed four daughters — Gia, 19, Gabriella, 15, Milania, 14, and Audriana, 10 — before deciding to split following both of their prison sentences on fraud charges.