Over the past couple weeks, Ceaser of Black Ink Crew has been on one and even crossed the line about wanting to fight Alex because of Donna's mouth.
Donna is a loose cannon and no one can control her, not even Alex and Cease should know that, but at Bae's wedding, rehearsal Cease took things way too far.
Read on to see what happened on Black Ink Crew…
CelebNRealiy247.com has the latest drama from Black Ink Crew since fans of the VH1 series have taken to social media to complain about the most recent episode, Ceaser is refusing to issue out any apologies.
If you recall, Ceaser Emanuel went ballistic at Young Bae's wedding rehearsal embarrassing himself and making a fool of his boss stature.
First Cease lost it with Richard and his wife for showing up, but O'Sh*t and Bae have become friends and it was her weekend.
Cease didn't feel the same way since he flipped the bill (aka VH1) for Bae's wedding weekend.
Next, his anger turned into a fury when Donna and Alex entered the room. The timing was disastrous, but what made things worse is Cease lost it.
In a fit of rage he went after Alex because he was PISSED at Donna's mouth and out of nowhere, Teddy jumped Alex. It was a SUCKER move on Teddy's part and Alex should sue Cease and Teddy.
Now former "Black Ink Crew" star Dutchess has something to say.
Dutchess had to put her two cents out there in a now deleted posting a video of Diddy speaking on getting rid of the weakest link and only surrounding yourself with success. (above).
Dutchess finally answers why she left Black Ink Crew, before deleting the post.
She explains:
Y'all wondering why I left at the time, I was wondering how could I stay? Yeah from TB it looks like people winning but when u know the contacts and what people really getting it makes it easy to walk away from what doesn't serve you!
She continued to state:
I thank God for strength to walk away when I didn't know what was next but the favor that he put on life from birth was beyond anything a TV show could give me. U count your blessing how u choose and I'll do the same for myself. I don't need 5 tattoo shops all I needed was the mental capacity to open the business that I don't even have to say I have anything to do with. 
Obviously, she is speaking on Ceaser's situation that the show portrays Cease as a boss of an empire, but it's made for TV.
She concludes:
I'm a living testimony and I don't need to brag to be Blessed.
Then she thanked Diddy for the video above.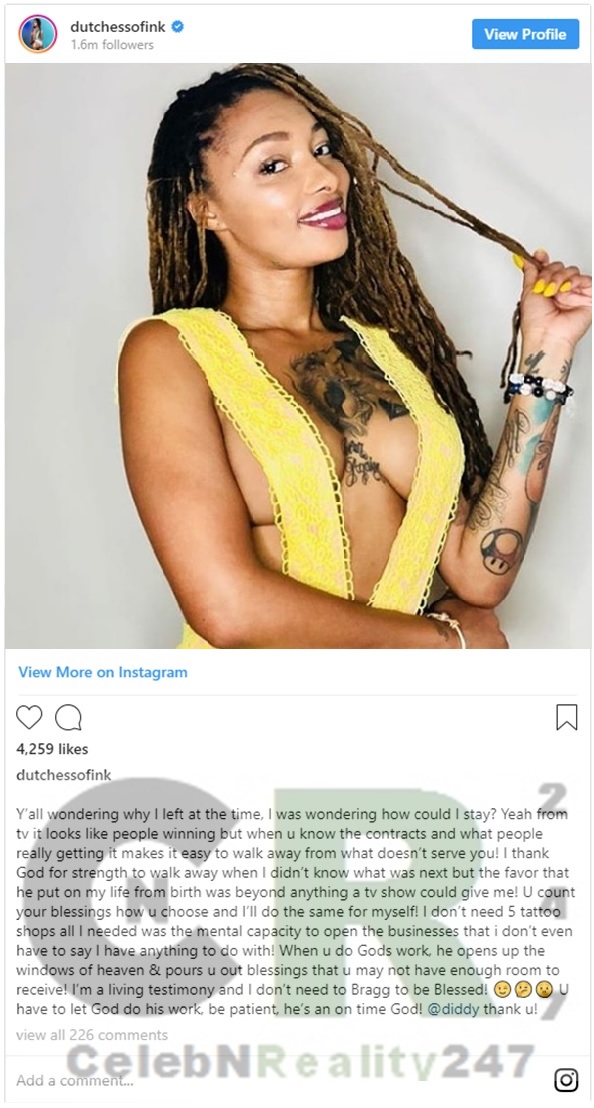 One reader told Dutchess she didn't NEED to post that and she replied: