Former Love & Hip Hop star and Creep Squad member Cisco Rosado has taken some time to himself for the past couple years and got back in shape living a healthier lifestyle.
Now, Cisco Rosado's life change has been for the better because he has a new lady in his arms. Continue on to see Cisco Rosado's, new lady…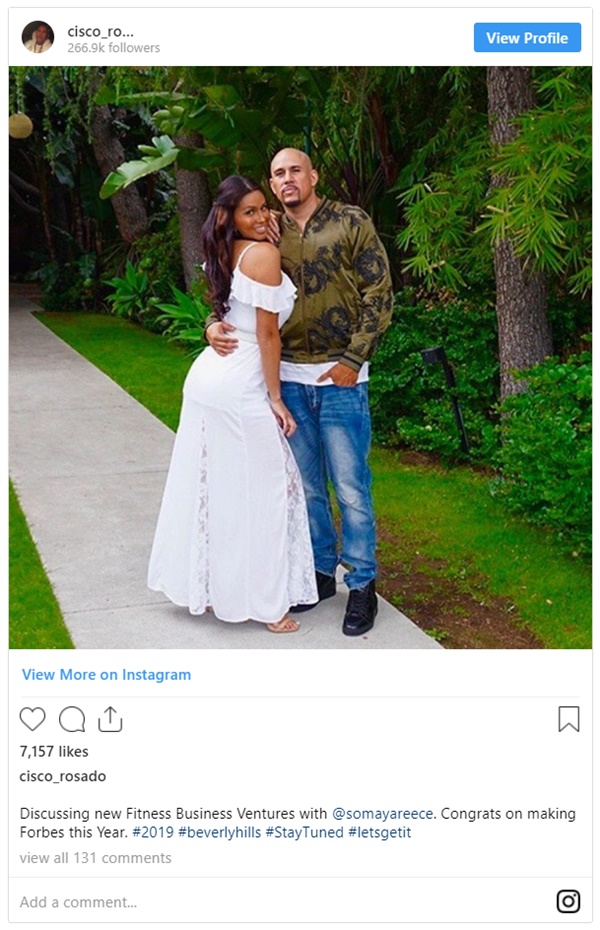 CelebNReality247.com reports that Cisco Rosado has found love again with ex-reality star turned entrepreneur Somaya Reece.
How did producer Cisco Rosado and Somaya Reece meet?
Their initial connection started over business according to sources.
The source claims:
She was developing a fitness product line for him, under her Get Slim Tea company. After they started doing business together, it blossomed into something more.
It is also said that Somaya says:
He's really a nice guy and is totally different from TV
To throw people off their scent that they are dating the two keep their social media posts strictly business.
Cisco posted in the photo above:
Discussing new Fitness Business Ventures with @somayareece. Congrats on making Forbes this Year. #2019 #beverlyhills #StayTuned #letsgetit
Somaya replied in the comment sections concurring:
We getting ? all 2019!! Looking forward to it. Happy to have you on board???
Of course, it had fans questioning:
Yo, what kind of shit is this????
Another weighed in saying:
A picture means they fuckin?? Maybe they are maybe they're not but Lmao luck acting like she owns her …so is luck fukin all the bitches she posts? If a picture means that nowadays LAMO!
A hopeful fan who believes they're a couple, says:
U guys look good together.
It makes sense since Cisco has been on a fitness kick to get his life back in order and live healthier.
It has been a minute since we heard anything about Cisco or Somaya.
The last we heard about her, Somaya recently made the Forbes List.  If you recall, She appeared on VH1's Love & Hip Hop on seasons 1 and 2.
Somaya Reece has found love again! Sources tell us that the ex-reality star turned entrepreneur is allegedly dating former Love & Hip Hop cast member, Cisco Rosado. Sources tell us that their
Cisco and Somaya's relationship is fairly new and they're trying to keep things low key for now.
Somaya currently resides in Los Angeles, while Cisco lives in Atlanta. This is a sure step up from his past reality TV star women Teairra Mari and Basketball Wives star Jennifer Williams.