Juelz Santana Set For Release Summer 2020!
Love & Hip Hop New York star Kimbella has some great news for all Dipset fans that her husband and rapper Juelz Santana will be getting out of prison in 2020. Read on to get more details on Juelz Santana Release Summer 2020…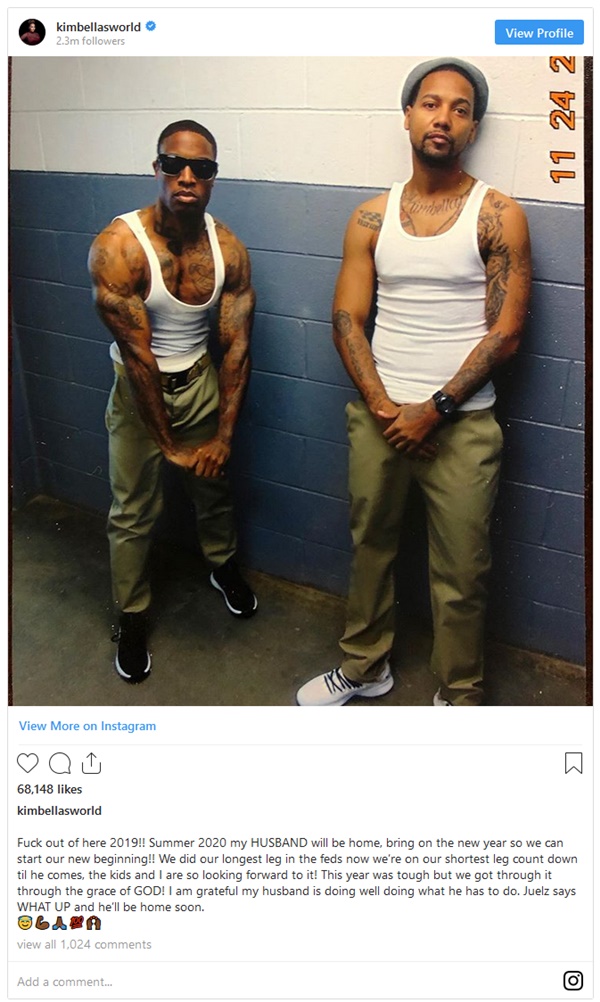 CelebNReality247.com reports that Love & Hip Hop: New York star shared a pic of her incarcerated husband Juelz.
In the photo that Kimbella posted, you can see Juelz Santana and a buddy of his flexin for the camera on her social media alongside a rather high energy caption
His wife, Kimbella writes:
F-ck out of here 2019!! Summer 2020 my HUSBAND will be home, bring on the new year so we can start our new beginning!! We did our longest leg in the feds now we're on our shortest leg count down till he comes, the kids and I are so looking forward to it! This year was tough but we got through it through the grace of GOD! I am grateful my husband is doing well doing what he has to do. Juelz says WHAT UP and he'll be home soon.????????.
If you recall, last December, Juelz was sentenced to 27 months in prison on weapon and drug charges stemming from a New Jersey airport incident earlier in the year.
Santana pleaded guilty to unlawful possession of a weapon and possession of a controlled dangerous substance.