Jersey Shore star Ronnie Ortiz-Magro's attorney spoke out on Saturday, the day after he was arrested for domestic violence in Hollywood.
Ronnie Ortiz-Magro apparently hasn't learned that his relationship is to Jen Harley is toxic for both of them. The couple should stop trying to make it work and just co-parent at this point, but you can't teach stupid. Even Ronnie said on Jersey Shore Family Vacation that he NEEDS to stop going back to try to make it work because it doesn't work. Too bad he wasn't listening to himself. Read on Ronnie Ortiz-Magro's Attorney speaking out and more…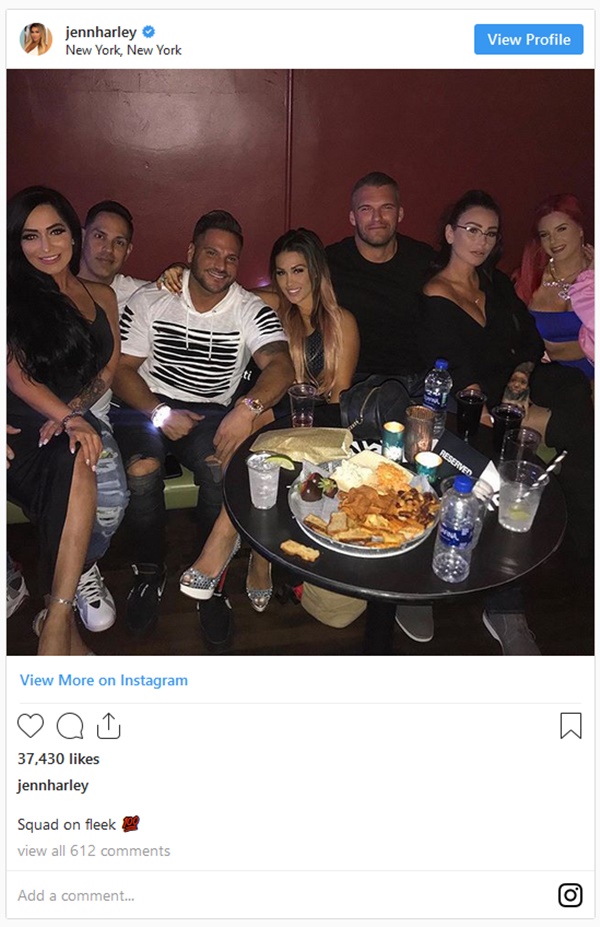 CelebNReality247.com has the latest from Ronnie Ortiz-Magro who allegedly threatened his on-again, off-again girlfriend Jen Harley while she held their 17-month-old daughter Ariana.
According to reports, Ronnie Ortiz-Magro allegedly took Ariana into his home and refused to leave when police arrived.
Ortiz-Magro's attorney, Scott E. Leemon, said in a statement to Us Weekly Saturday:
The reporting of the alleged incident relating to Ronnie Magro yesterday is based upon pure speculation and innuendo. We are currently conducting our own investigation and will have no further comment until that has been concluded.
What is bad about the situation is that this happened:
Ortiz-Magro, 33, was arrested Friday morning in Hollywood after allegedly threatening Harley with a knife. Surveillance footage from a neighbor's camera showed Harley trying to get help while carrying Ariana during the alleged incident. Police were called to the scene and eventually arrived around 2:40 a.m.
Maybe Jen was telling the truth to Jenni JWoww Farley on last weeks episode?
As for Ronnie, he previously told E! News that they have a "strong love for each other" and their relationship is misrepresented on television.
Ronnie said:
Me and Jen have a strong love for each other. What the show portrays and what we really have for each other are two completely different things. They ask why do we stay with each other? And it's because we know what we have is real. And at the end of the day, people don't see what we have, they see what MTV wants you guys to see.
The Los Angeles Police Department said in a statement:
Officers responded to a battery in progress in the 7200 block of Woodrow Wilson Drive at around 2:40 a.m. – Suspect and victim were involved in some kind of physical altercation. When officers [were] on location, the suspect was uncooperative. Officers had to use a taser so there was minor use of force that occurred.
Police said the child was not harmed.
Ronnie we just wish you would realize for the wellbeing of yourself and your duaghter that Jen is NOT the one. Just be  dad and love yourself.