Jersey Shore Star Ronnie Ortiz-Magro Charged With Kidnapping
What is going on with Ronnie Ortiz-Magro and Jen Harle? It seems the drama NEVER ENDS with these two, and now more domestic violence drama…WTF man? Read on…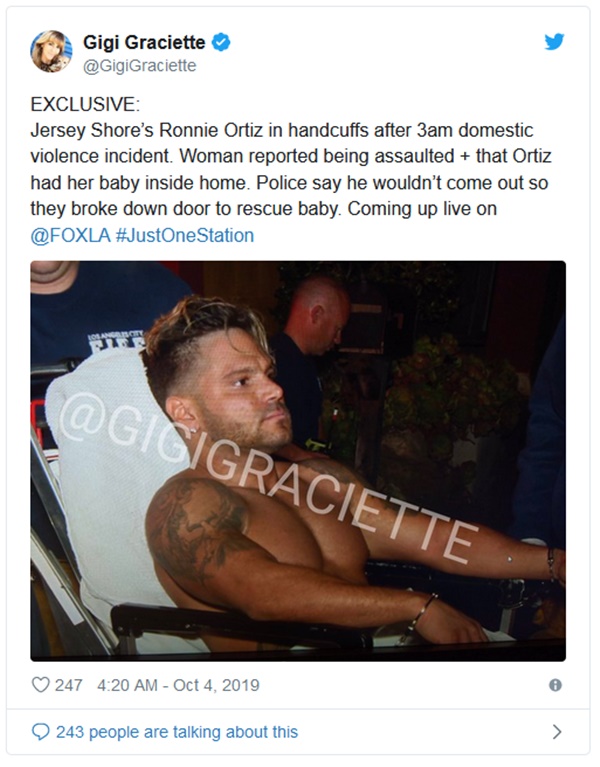 CelebNReality247.com has learned that Ronnie Ortiz-Magro faces the felony charge after members of the Los Angeles Police Department responded to a battery incident at a home he and girlfriend Jen Harley were staying at in the Hollywood Hills.
The incident took place in the early morning hours of Friday, Oct. 4. – Ronnie Ortiz-Magro was arrested and taken into custody at 3:10 a.m., according to police records.
On Friday afternoon, Ortiz-Magro made a $100,000 bail and was released, according to the Los Angeles County Sheriff's Department.
Ronnie's Lawyer Scott E. Leemon to Us Weekly on Saturday, Oct. 5.
An LAPD spokesman to the USA Today Network New Jersey said:
The suspect and victim were involved in some type of physical altercation, when officers arrived they had to deploy their tasers on the suspect and minor use of force occurred. There was a child at that location. That child was unharmed.
The reporting of the alleged incident relating to Ronnie Magro yesterday is based upon pure speculation and innuendo. We are currently conducting our own investigation and will have no further comment until that has been concluded.
A FOX 11 Los Angeles reporter (above) at the scene captured photos of a shirtless Ortiz-Magro handcuffed on a gurney after being tased.
The child was not harmed during the incident, police said. Police declined to comment on Harley's injuries.
The suspect is no longer in the hospital and expected to be booked on Friday, police said.