Purse First! This week on RuPaul's Drag Race: From Reading to Little Women LA, the queens are happy to see Acid Betty gone, but when it comes to the next challenge there is a little twist!!!
On this weeks episode of RuPaul's Drag Race the queens give cast members of Little Women: LA drag makeovers in the style of The Wizard of Oz on the flip…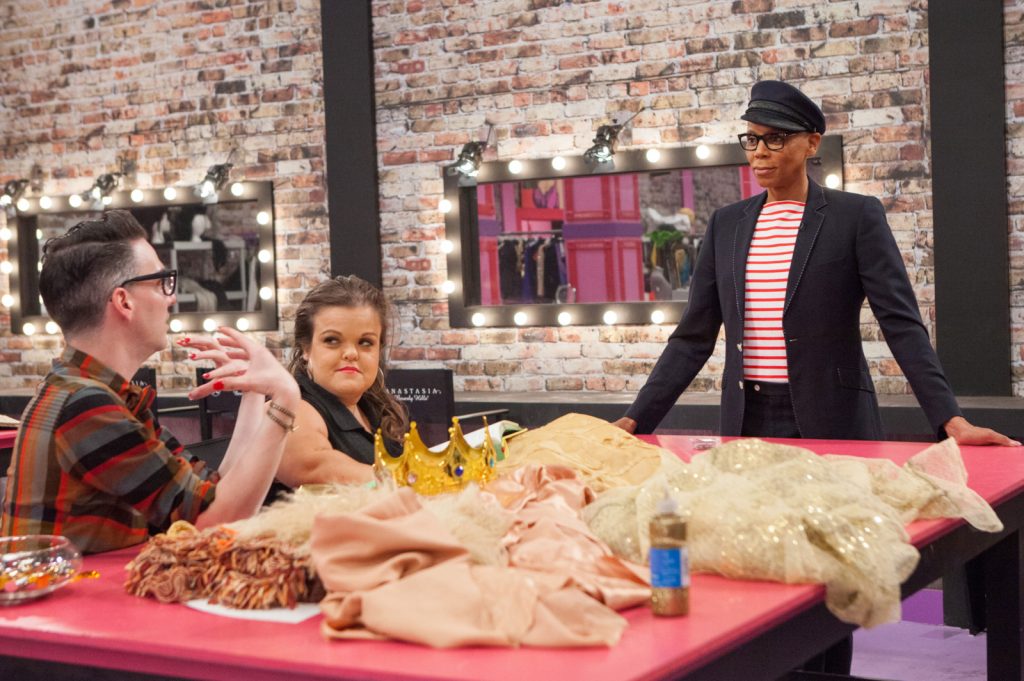 CelebNReality247.com has your breakdown of tonight's episode titled Wizards Of Drag we see that the Little Women: LA make for a difficult execution for some of the queens.
Who will lose the lip sync for your life?
Before we tell you the tea, lets recap:
Once the queens get back from the runway there is no love lost to see Acid Betty gone.
Thorgy is frustrated that BOB keeps winning.
Naomi Smalls gets told to stop walking the runway in lingerie.
The queens weigh in on Naomi Smalls telling her that the judges want to see her push the envelope and step out of her comfort zone.
With six episodes down and six queens left the competition is started to show the standouts, like Bob, who keeps winning challenges! The queens have taken note as he is posing a threat, mainly for Thorgy Thor.
Bob says that everyone wants him to fail and he is not wrong. They all want him to fail. I get it. I kind of want Bob to fail too. Bob seems to have this whole competition sewn up, but this week, shows that one slip up and he could be out.
As for, the other contestants Thorgy and Kim Chi are the only ones with a real chance, compared to Chi Chi and Derek Berry who is stuck in a Britney Spears box. Thorgy is fabulous and over the top, but Kim Chi is stylish, creative and innovative.
This week the mini challenge is the annual reading challenge, which, next to the Snatch Game, is the most iconic challenge of the season. Marc Snetiker from Entertainment Weekly showed up to judge the read, and yes, Bob Won.
Bob proved his comedic side, but Kim Chi would be a close second. This challenge was made for Bob to roast some of these queens and read them for filth, as the kids say on Snaps-chatter. She does not disappoint.
This year on RuPaul's Drag Race episode 6, the reading challenge isn't as strong as previous years, but there were some great moments.
Derrick Barry trying to read is like Britney Spears trying find the upstairs in a one story home.
Robbie Turner reading was so vintage it was like a silent movie, cricket's
Naomi Smalls reads were less than impressive.
Chi Chi DeVayne got real with it and to us was a strong second, especially when she read Bob with this read, "You may live in New York City, but those feet are still from Mississippi."
Kim Chi had a unique style that is as creative as some of her runway looks
Bob was the hands down the winner. – He did a great job making so much fun of Derrick
Let the Reading begin on RuPaul's Drag Race below:
Which leads us to the big challenge of the week transforming the cast of Lifetime's show Little Women of LA. The had to rip a Wizard of Oz-inspired look out of the Lollipop Guild.  Unlike previous years where the queens make over men, this year the challenge is a bit harder but equally fun since the ladies of Little Women: LA are their cohorts in the challenge.
[rpi]
Everyone is looking like they have it under control but the only queen that has Thorgy upset is Chi Chi who hot glued her outfit together and it was like a low-budget thrift store dress not anything from the wizard of oz.
The other problem is Bob, whose dress falls apart and he is faced with piecing together a new look. He runs out of time and slaps a look together that doesn't fly well with the judges. This week Bob is forgettable but safe.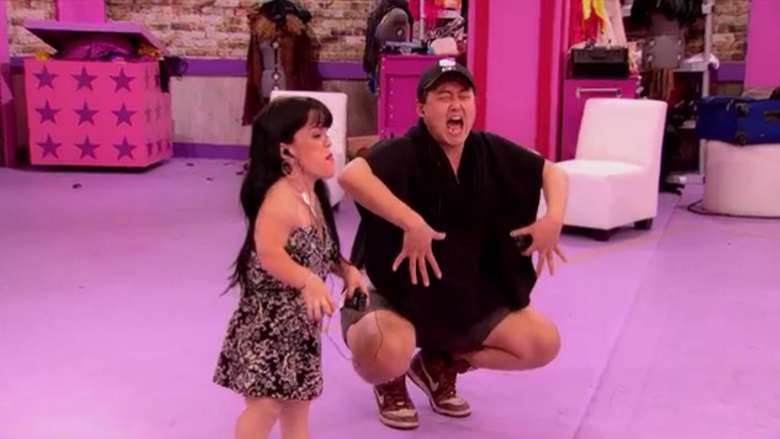 Here's how everyone looks on tonight's RuPaul's Drag Race:
Bob looks like a lesbian bride at her Nightmare Before Christmas wedding. Rob looks like Tawny Kitaen on a bad video shoot.

Naomi Smalls and Jazzy Jems: Twiggy dresses up as a plastic surgery patient for Halloween. Better work.

Derrick and Tara Barry: Look like they grabbed some material and patched it together like a scavenger of the future with no direction.

Robbie Turner: Look like he stepped out of an old classic film promoting Virgina Slim's. If life was black and white maybe the look would work, but its in living color and all the flaws are noticable.

Thorgy Thor looked like a club kid from the 90s waiting for Deee-Lite to set off the Emerald Party on Fire Island.

Kim Chi and Misa Chi: looked as if they stepped out of Tim Burton Alice Through the Looking Glass. Flawless, except for that walk.
Naomi was the standout of this week and won the runway challenge. He took the note and applied them.
The bottom two are obviously Derrick Barry and Robbie Turner who did a lip sync to Icona Pop.  Derrick SLAYED sending Robbie Turner back home to eat peaches.
Derrick Barry had a tearful breakthrough, so maybe he will step out of his Britney Spears box and show the judges he's worthy of RuPaul's Drag Race.
No more 9 Lives for her huney!
Until next week…. purse first!