We just got word that Safaree Samuels must be tired of all the THOTS because he took to social media to announce that he is swearing off sex until marriage.
Read on to see why Safaree will no longer be dipping his stick in aspiring female rappers…
Safaree is tired of the fast life as it pertains to casual dating, especially since that tape leaked showing off his plantain.
Not only that, Safaree Samuels bachelor's stock has gone way up over the years, but he's NOT trying to do the horizontal tango with every woman.
Samuels announced on Twitter:
I'm so serious when I say the next woman I have sex with will be my wife. I can go ages without sex, I don't care about it. I'm looking for a wife. I want a relationship, something real. If you're not trying to give that I'll keep my meat wrapped around my leg 2myself.
The Jamaican hunk added:
I already spend a lot of time alone so abstinence will not be a problem at all. This birthday made me realize something and I refuse to grow old and not have a mini-me and some1 to share this wood with??
Check the Tweets: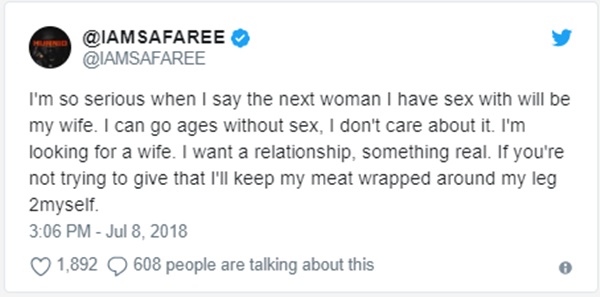 He adds: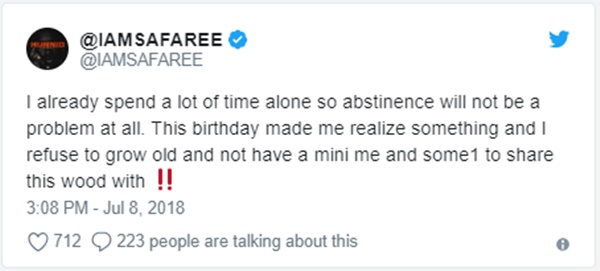 Safaree began his wife-thirsty tweeting streak last week saying he wants a wife and kids "so bad"
As for his potential women, JuJu and Amara La Negra have both gone on record stating they are only friends, nothing more.
One thing for sure is Amara and Safaree have chemistry but on a friendly tip. Check out these two flirting at the BET Awards: