During part 3 of 'Xscape: Still Kickin' It' Tameka Tiny Harris revealed that she rejoined her girl group Xscape to cope with divorce from T.I..
Despite the drama with the girls and getting back to who she once was Tameka Tiny Harris says that Xscape is good therapy. Read on…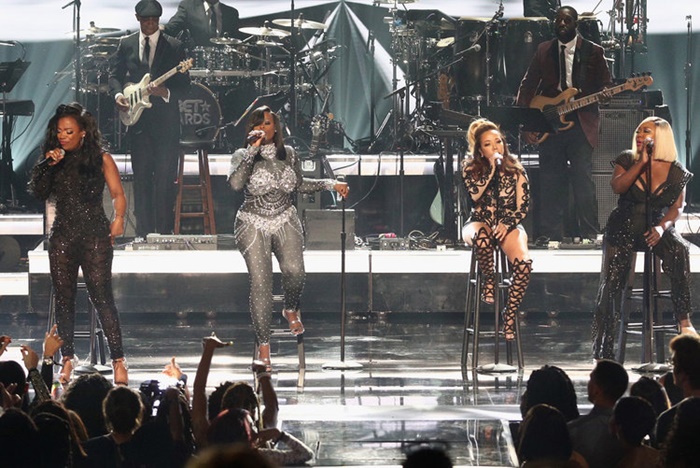 CelebNReality247.com are big fans of Xscape, we love the ladies of the group, but watching the docu-series we can still see there are some issues with the quartet.
Tonight on Xscape: Still Kickin many questions regarding the Tiny and T.I. divorce  get answered, despite Tamika Scott saying that they're still together on WWHL with Andy Cohen.
At one point, Tiny is heard saying that she and Tip are still messing around but that doesn't mean they're back together. The 'Family Hustle' couple are still working things out.
Tonight on Still Kickin It, begins with the group — Tamika, LaTocha, Kandi and Tiny — getting ready for the BET Awards. But first they have to iron a couple things out with So So Def's Jermaine Dupri, the man who wrote all the music for the 90s girl group. In case, you didn't know, none of their music is theirs, Jermaine owns it all because he wrote and produced it.
Which leads us to Tamika, LaTocha, Kandi and Tiny facing off with Jermaine Dupri at the So So Def offices about making their own biopic, not some random nobodies who have no clue on what, why or how the girl lived, and ended.
The ladies put up a great fight with Dupri, who is all about business. The one thing Jermaine says is that he knew they'd get back together over the unofficial biopic. It basically sparked a fire under their butts to get back together and get in it. The only one in the group is LaTocha is torn because she feels a sense of loyalty to Jermaine because he gave them their start. On the flip side of that, Xscape was his first group that put him on the map, so it was a group effort.
Before the meeting starts with Jermaine, Kandi sounds off saying:
"If he has something to do with a movie that's stealing our legacy, then I don't want to hear what he has to say."
Tiny breaks the ice with this question:
"Why ya neva talk about us in your interviews?"
She adds:
"It was almost like we never f–king existed."
He responds:
"Why did the girls break up in the first place?" Then, admitting that he doesn't even know why the girls broke up in the first place.
Watch:
Instantly we see a montage of take outs from the ladies pointing the finger:
Tiny says something just changed; Tamika admits they outgrew each other; LaTocha reveals that they split because there was no communication, but there was cattiness; Kandi says they split up because LaTocha wanted to go solo and Tiny agrees.
[rpi]
Bottom line no one wants to admit the truth, but it appears LaTocha wanting to go solo was the main issue.
Kandi reveals LaTocha said:
"Tiny and Tamika go get married and have babies, and Kandi do some modeling, I'm going solo."
The Atlanta Housewives star proclaims:
"What do you think is going to happen after someone says that. Isn't that breakup material?"
Another thing we learned tonight is where Tiny and T.I. are with their relationship. According to Tameka Harris, they seem to be back on, but they're not. Tiny reveals that she and T.I.'s newest daughter, baby Heiress has been her savior.
She tells Zonnique
"This is the best thing that's ever happened… she's a lifesaver since I'm going through this divorce. I don't even care, as long as I got this. I need to get back to the old me, and start being the person I was when I was being creative, you know, not just creating babies."
Tiny adds:
"I need Xscape right now, for me. I need not to be somebody's ex wife, not to be going through a divorce, and be up on that stage doing this for me. However, "it doesn't mean that we're necessarily back on track."
While out in LA, Tiny opens up about Tip supporting their daughter at the BET Awards:
Watch them getting ready before the show:
Finally we get to the end when the girls perform at the 2017 BET Awards, and they killed it. Their first show together on stage after 19-years. Watch here…
Congrats ladies!