'Basketball Wives' Star Kristen Scott Speaks on Cece & Byron Scott's Wedding!
The bad blood between Kristen Scott and Cece Gutierrez is not over because she is now speaking out about her wedding to Byron Scott. Read on…
CelebNReality247.com reports even after filming for the recent season wrapped up, Kristen confirmed that she was still on icy terms with Cece Gutierrez and Byron Scott.
According to reports, Cee Gutierrez and Byron Scott got married this week via Live stream so nobody was in attendance.
However, CeCe's bestie OG made sure to let everyone know that she was somehow in attendance.
OG writes:
Celebrating the Scott's – It's official meet Mr & Mrs Scott – We are blessed to have witnessed this union.rites:
Of course, fans of "Basketball Wives" fans have had plenty to say on social media after OG posted that she attended the wedding.
In fact, fans reached out to Kristen Scott who fell out with Cece Gutierrez and Byron Scott.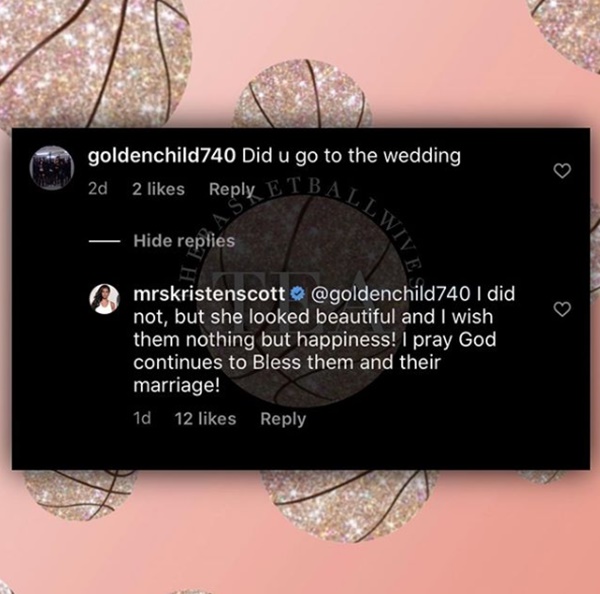 If you recall, Kristen accused Byron of not seeing his granddaughter. Byron denied the accusations and said that the real issue is neither Kristen nor Thomas Scott bring the child to see him.
Things only got worse after Kristen blamed Cece for the demise of her relationship with Byron. Cece would later tell OG that Bryon isn't Thomas' biological father and OG repeated this during an argument.
To be honest, CeCe is the problem and she has used the power of the P to wrap Byron around her finger. We have watched the show and its clear to see the type of GD she is.
Why Kristen Scott was NOT at The Wedding:
Anyways, Byron made it clear that he didn't want to invite Kristen to the wedding. But he still had plans of inviting Thomas.
Some fans of the show took to social media stating that Kristen burned bridges with her family to be accepted by Evelyn and Shaunie O'Neal. As a result of this opinion, Kristen has been receiving a lot of backlash.
After a follower asked if she was at the wedding, Kristen replied:
I did not, but she looked beautiful and I wish them nothing but happiness! I pray God continues to bless them and their marriage!
Kristen has been enjoying her summer with her husband:
View this post on Instagram