Ouch that's gotta hurt, but we all saw this coming miles away. When Blac Chyna admitted to robbing the cradle like Tyga did with Kylie Jenner America was stunned.
Then we learned that Blac Chyna just got  by her teen boyfriend YBN Almighty Jay was 18-years-old and a former blogger turned rapper. Read on for the tea…
CelebNReality247.com has now learned that Blac Chyna just got dumped after two months of smashing by her teenage boy.
We previously reported that Blac Chyna had claimed that she was pregnant with her third baby by a third man.
The former fiancé of Rob Kardashian who wanted to legally wanted to  go by Angela Kardashian if she married rob scared YBN Almighty Jay. Just weeks prior it was rumored YBN proposed.
YBN quickly dumped her after the news spread like a wildfire in California. (Too soon? Hey we had to evac, so we can say it).
Anyways, YBN revealed on fellow rapper Zoey Dollaz's Instagram Live over the weekend that he dumped her.
He wrote that he was not only a "free man" but that he also "cut her off."
Apaprently, YBN used Blac Chyna to get exposure because he also admitted on social media.
The Texas born, Texas raised rapper said:
6 Months Ago Nobody Knew Me. 6 Months Later I'm A "LEGEND" ??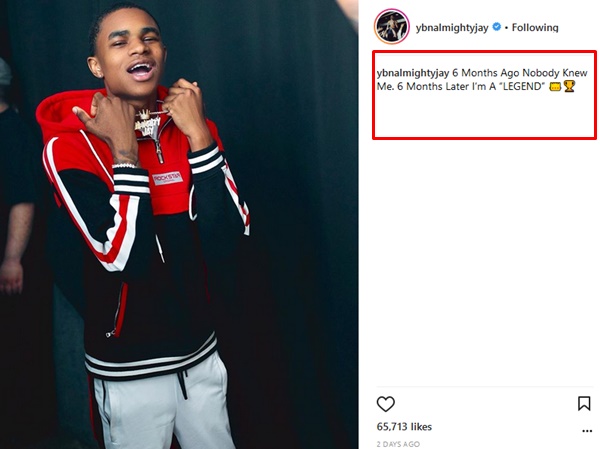 Bottom line, Blac Chyna played herself for not having protected sex with a teenage boy. On top of that, if Blac Chyna is pregnant with her third child and he's the alleged father, she looks hella stupid for allowing this to happen.
Did she really think a 18-year-boy would want to settle down with 29-year-old woman. Chyna, whose real name is Angela Renée White NEEDS to be by herself for awhile and lock down her happy garden to all prospects.
Blac and YBN only started dating back in late February, but that is like a 2 years when you are a teenager.