While Black Ink Chicago has been in between its seasons, we have some bad news to report. Charmaine Walker's mom passed away.
Our condolences go out to Charmaine Walker who just lost her mom. Watch Charmaine and her father say goodbye at the funeral. (it will be more real than the reality series version). Read on for more details about Charmaine Walker's Mom died…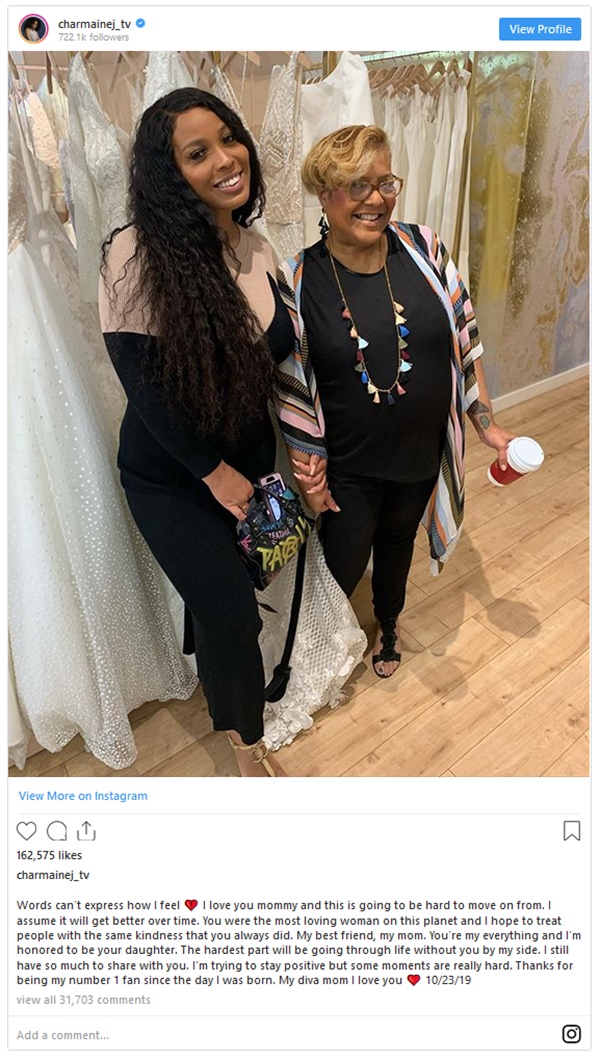 CelebNReality247.com reports that "Black Ink Chicago" star, Charmaine her mom, Glenda Walker died on October 23, 2019.
A few seasons back it was revealed that Charmaine Walker's mom Glenda Walker had been dealing with health issues, but it appeared that she was better. The one thing she was able to see was her daughter engagement to Neek
Charmaine shared the sad news of IG with these words:
Words can't express how I feel ? I love you mommy and this is going to be hard to move on from. I assume it will get better over time. You were the most loving woman on this planet and I hope to treat people with the same kindness that you always did. My best friend, my mom. You're my everything and I'm honored to be your daughter. The hardest part will be going through life without you by my side. I still have so much to share with you. I'm trying to stay positive but some moments are really hard. Thanks for being my number 1 fan since the day I was born. My diva mom I love you ?? 10/23/19
Glenda and her husband made recurring appearances in support of Charmaine during her time on Black Ink.  Last season we saw her mom Glenda and father Michael Walker attended Nick's proposal at the safari park in North Carolina.
In the upcoming season, Black Ink Chicago fans will see Charmaine's world change while she is preparing for her wedding to Neek Bey, her mom takes a turn for the worse and dies. In the photo above, you might have noticed that Charmaine and her mom were able to do some wedding dress shopping, so she got to see the lead up to the wedding.
After Charmaine Walker's Mom died she honored her mother with some special moments they shared:
She posted this video of her mom the day before she died. It took everyone by surprise because she looked fine in the video:
View this post on Instagram
She posted this video honoring her mother's 6 decades of life at the Crown of Life Lutheran Church in New Orleans with her father.
Neek Bey also added the video to his feed saying:
You can see in the video below that Cameras were rolling as Charmaine and her father releases 6 doves representing 6 decades of her mom Glenda's life.
Take a look:
We are still shocked that Charmaine Walker's Mom died. Our condolences go out to Charmaine, her dad, Neek and the family.