'Black Ink Chicago' Star Bella Speaks Out on Fly Tatted Death!
News broke earlier this month that Black Ink Crew Chicago lost one of the new cast members, Fly Tatted who died. Ryan Henry was the first to speak on the shocking news.  Now, Bella is speaking out after rumors of her alleged involvement in castMate Fly Tatted's death. Read on…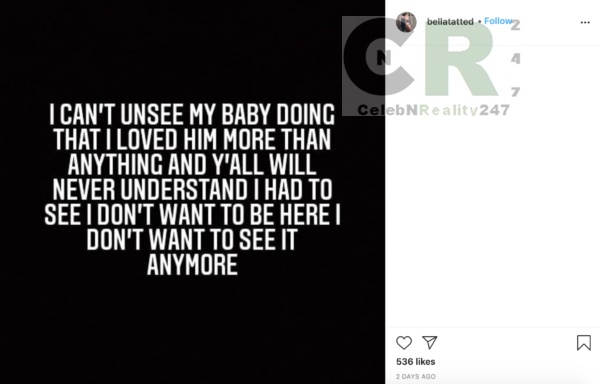 CelebnReality247.com reports that Bella took to her Instagram Live on Tuesday, Feb. 9, where she addressed the claims against her in an emotional clip captured by blog site The Shade Room.
Bella stated in her Insta Live post:
I don't even care what y'all saying about me. I don't even care that y'all calling me these names and murderers. All I care about is him and his family," Bella said tearfully. "He didn't mean to do it.
She pleaded with viewers to leave her alone.
Y'all didn't see what I seen.
Bella claimed that she told police she was supposed to meet Fly's father and that the tattoo artist didn't kill himself on purpose.
She said to the camera before breaking down entirely and screaming:
He was fighting demons. Y'all didn't see what I seen.
Bella's daughter was also seen near her in the footage:
On Wednesday, Bella shared a memo on her Instagram page, presumably in response to the continued discussion surrounding her involvement.
She wrote:
I CAN'T UNSEE MY BABY DOING THAT I LOVED HIM MORE THAN ANYTHING AND Y'ALL WILL NEVER UNDERSTAND I HAD TO SEE.
She added:
I DON'T WANT TO BE HERE I DON'T WANT TO SEE IT ANYMORE.
Bella removed the commenting feature on the post.
Our prayers and condolences for Fly Tatted's family and the "Black Ink Crew" community.
Fly's death is still under investigation as there is no definitive answer as to the cause of death.
We will keep you posted as the story continues to develop…
Bella has been taking his death hard. She has been posting videos of she and Fly:
View this post on Instagram