Black Ink Crew star Ceaser Comments To Sky Sparks Social Media Reaction!
We previously spoke on what happened to Sky on Black Ink Crew earlier today. And now, a recent post from her bro Ceaser Emanuel has sparked social media reaction. Read on since Ceaser comments to Sky sparks social media reaction…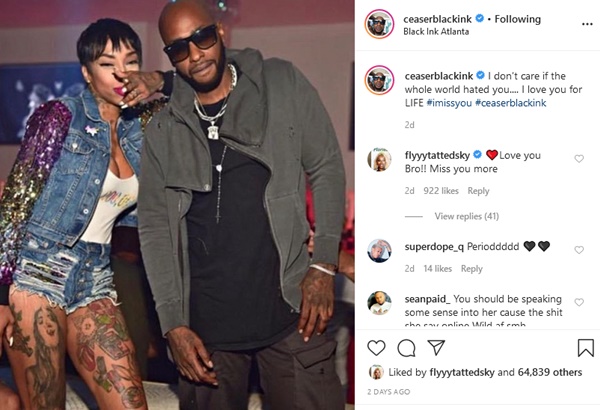 CelebNReality247.com reports that on Monday Ceaser Emanuel reached out with a photo of himself with Sky saying that he missed her despite "the whole world [hating her]."
Ceaser Emanuel, who will turn 41-years-old on June 5th, said:
I don't care if the whole world hated you…. I love you for LIFE #imissyou #ceaserblackink
Sky responded to Cease in the comment section saying:
??Love you Bro!! Miss you more.
Well, fans of Black Ink Crew decided to weigh in on the situation with Sky.
Many fans are still NOT cool with the way she handled her son Des, and they feel she is a risk to be associated to.
One fan writes:
You should be speaking some sense into her cause the shit she say online Wild af smh
Another said:
If the whole world hates her it must be a reason….watch your back.
Meanwhile, others feel that Sky NEEDS to take time to reflect and get help.
A fan writes:
I hope she is taking this time away from the camera to get serious mental health treatment ??
One fan had some truth on the situation, saying:
to be honest I don't think nothing wrong with her, people goes thru things in life an some things may be simple to other but huge to the one who has to deal with it. sky I don't know u from a can of paint but baby u got this no matter what u keep pushing an when it seems to get harder u keep pushing harder love fuck the rest??
No matter what the outcome, we wish Sky the best.