We all know Joseline Hernandez sidekick/former manager Dawn Heflin always bragging she got money! Well Dawn Heflin is as Broke As A Joke!!!
Get the hot tea spilling on Dawn Heflin on the flip…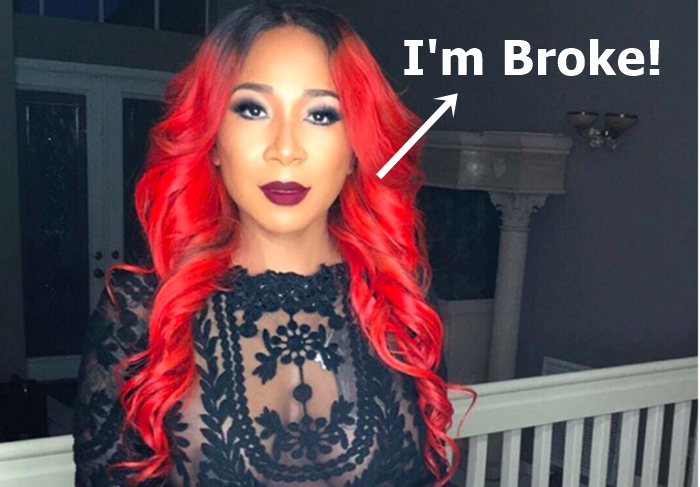 CelebNReality247.com has learned that Dawn Heflin of Love and Hip Hop ATL has filed for Chapter 13 bankruptcy explaining she has $235,719 in assets and $263,370 in liabilities.
Dawn has revealed in court papers that she only has $20 in cash to her name and lives off food stamps.
Girl please?
The Funky Dineva has this tea:
Dawn list her assets to include her Georgia home worth $172k, $20 in cash on hand, $320 in her checking account & $100 in savings, $1k in household goods, $1k in clothing and shoes, a 2013 Lexus LS worth $48k, and a 2012 Chevy Tahoe worth $12k.

The court documents list her liabilities as $22k on the Tahoe, $32k owed on the Lexus, $17k in mortgage arrears and $166k owed on her home, $1,400 in back taxes, $9k+ in credit card debt, $3,305 on a charge account with Neiman Marcus, $7,653 to the Department of Education for student loans, over $4k to Macy's & $1,207 to Banana Republic, $1k to Home Depot and various other debts. She lists her occupation as cast member on Love & Hip Hop Atlanta and makes $3,250 a month along with $733 in social security for a grand total of $4,004 in income a month. After she pays her monthly bills, she is left with a total of $1,163.

The documents reveal Dawn received $708 in food stamps in 2015, $2,244 for 2014 & $5,604 in 2013 and she only made $12k from employment in 2015 and $15k the year prior. The case is still pending in Federal Court with the judge attempting to pay off the majority of her debt owed to creditors. Dawn has admitted to serving 5-years in prison for drug charges back in 2002. dawn
We understand that Dawn is getting food stamps, but she makes $3,250 a month on Love & Hip Hop Atlanta along with $733 in social security, which is a violation.
Did we all just forget that Big Freedia got busted for section 8 housing and collecting a social security check while making large amounts of mula from her show and music?
We also understand that Mona Scott-Young hires people for dirt wages like a sweatshop. Mona, you might need to up Dawn's monthly checks and give her a hot meal for the holiday season. Or Dawn can get some tips from Joseline and hit the strip club and drop it like its hot.
Just a thought.