When it comes to celebrity tantrums, Brody Jenner was Caught YELLING at the Laguna Hills Marriott security staff on Sunday!!!
Get the tea on the flip on why Brody Jenner Caught YELLING at Hotel Staff…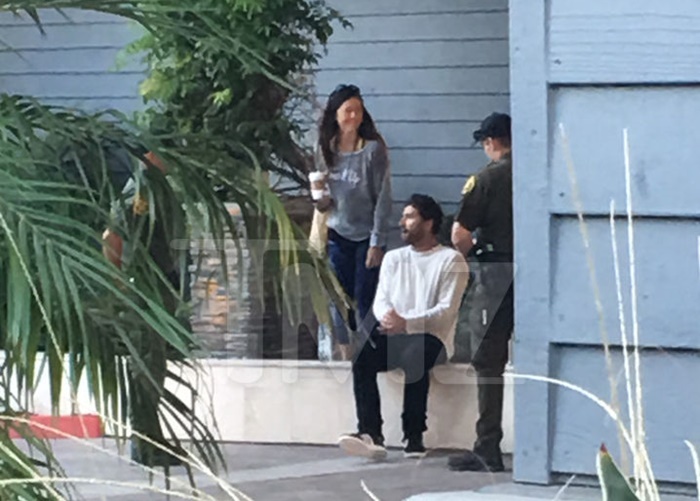 CelebNReality247.com has just got word that onetime "Hills" star, Brody Jenner, 33, launched into yelling tantrum when security gave him the boot.
Word is, Brody Jenner allegedly tried entering his manager's hotel room to retrieve personal items, which the hotel staff said wasn't allowed.
That didn't sit well with Jenner. An infuriated Jenner ended up EXPLODING at hotel staffer so they called security to kick the former reality star out.
YIKES!
According to TMZ:
Jenner's tantrum took a turn for the profane when the security guards allegedly entered his room without knocking. "I will press charges on your f—king ass," he fumed at one employee. "I'm calling my lawyer right f–king now. How dare you come into my room?!"

Orange County sheriff's deputies were called to the scene to keep the peace. After Jenner spoke with officers, he calmly left the hotel at about 7 a.m.
Watch it all play out below:
In additional news, Brody Jenner Called Racist After a Keith Lamont Scott murder Instagram Remark!?!
Caitlyn Jenner's son went on another rant yesterday, when he should have just kept his mouth shut and his opinions to himself.
But like most Kardashian/Jenner's they always make noise to stay relevant in the media. However, as we all know he has less of an influence than most fake DJs. But people still noticed he went on a rant about "why does everything has to be about race" shortly after police released a video of Keith Lamont Scott being shot by an officer. Scott was a Charlotte, N.C., citizen.
Brody writes:
"If you have an officer of the law telling you to exit your vehicle (or do anything for that matter)…you comply. And not only do you comply, but you do so willingly and follow directions completely… If I, as a white male, did those things, I'd expect that I'd be putting myself in danger of being shot because I'd be making myself a perceived threat. This world is getting out of hand with the race issue. Maybe I say that because I'm not racist. I see humans as equals. You shoot me, or you shoot an African American, we are both humans with the same beating heart. Why is everything these days about race? Why?"
Really Brody?
Here is the post: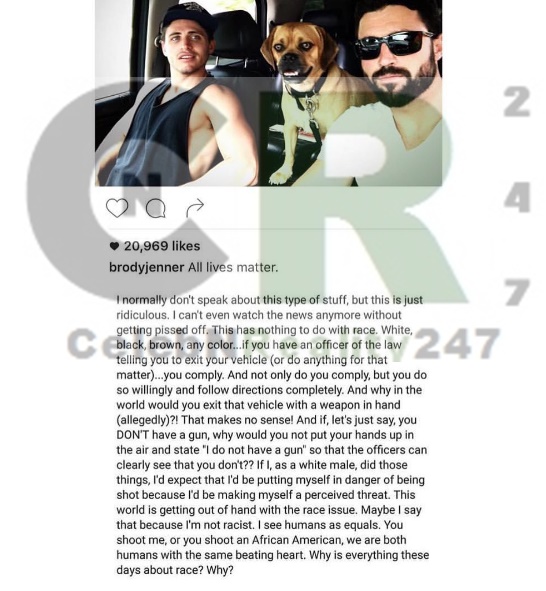 Brody didn't realize his racist was showing obviously. Sad how America loves the Jenner's and they always say the most F'd up things and people still love them.
BOOOOOOOOO! NOT a fan!
Thoughts?