Black Ink Crew Chicago season 2 is back with more drama as tea is spilled, lines are drawn, Feuds ignite + New Artists move in!!!
This season of Black Ink Crew Chicago season 2 is showing that its packing punch….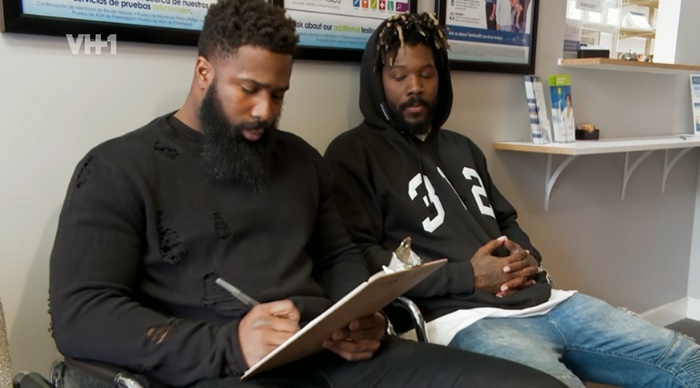 This time around we catch up with the Chicago crew of 9 Mag as Ryan is pushed into a corner to make some serious changes in the shop.
Lets catch you up:
Ryan is forced to make some serious changes and the first thing is to clean house since 9 Mag is now empty. Phor is focusing on his hip hop career and Kat has move her Kat Ink studio upstairs. She has a spot in 9 Mag, but she is NEVER there. And to make matters worse for Ryan she and Phor are NOT paying rent, so Ryan has to drop the hammer. The only problem is it causes a major divide in friendships. Charmaine and Kat get in a HUGE fight when Ryan tells Kat that she's out.
Ryan makes some serious changes. The first is moving Kat out of her spot and moving in Junior.
Kat is been doing really well since she stepped out on her own, but the ties that bind run deep. She feels she can keep her spot on 9 Mag, but NEVER use the spot. She has moved he spot upstairs above 9 Mag where she has an art gallery/tattoo spot. Kat feels Ryan owes her an explanation, but he doesn't. The only thing we can say is that Ryan has no tack when it comes to being a boss. He carries too much emotion on his arm when trying to make decisions. Kat has decided that her run with Phor is over because she wants more and he is still focused on the strip club. She wants more and Phor is NOT it!
As for, Phor, he is focusing on his rap career and his is geeked to open for Yo Gotti and K Michelle. Phor has been touring more and is spending less time in the shop. On the night of his big show Danielle, Kat and Charmaine as completely disrespectful to him acting like horny groupies trying to get some rapper D.
Charmaine has become tight with Ryan, so she left her corporate job to become the active manager of 9 Mag for Ryan. Charmaine is also trying to focus on her modeling. He friendship with Kat is over after they both start taking shots and each other.
Listen to what her cousin Danielle has to say to Kat about Charmaine. Kat weighs in on Ryan and Charmaine:
Later, Kat pulls up to 9 Mag all degrees of heated in this Black Ink Crew Chicago highlight. Feeling disrespected that her belongings were dashed away like trash (even though she said she didn't want them), Kat can't help but throw hands at Charmaine. Caught completely off guard, Charmaine feels Kat crossed the line from business beef to a personal problem. With Ryan coming at her, another fight with Charmaine, and feelings of violation, Kat finds herself done with 9 Mag and Charmaine is all the way done with Kat.
Don is engaged and has really stepped up as a soon to be husband to Ashley. The only problem is that his old Netflix home girl, Whitney is claiming that she has a daughter by him. Don is feeling skeptical about the whole thing. He feels that she should take him to court like any real woman would. He also feels that he believes she is being dirty since she is BLASTING him on social media. Don also knows that Whitney is jealous that he is with Ashley. He feels its ugly on her part and how she's going about it. Don speaks to his bro Phor, and they decide to have him get a paternity test.
Then there is Don's fiancee Ashley. She is still ghetto, has no clue on how to design a home and instead of saying she is going to decorate her home, she says she is going to decor it? Huh, what kind of shhhh is that? What is even more sad is when we finally see the inside of their home it's low budget. We get it girl, we understand you need some interior design teachings, but first Ashley needs to dump the ratchetness. And Don, we understand you love your son, but is Ashley really making you happy? The whole relationship seems forced. He's settling because he feels responsible for knocking her up. But marriage is NOT supposed to be so much pressure to "act" happy when your both NOT!
Last but not least is Van's welcome home bus party.  Van is still serving time since last season for a gun charge. He is set to get out so the crew goes on a 5 hour journey to meet Van when he gets out. Ryan is looking forward to Van coming back to 9 Mag because he is loyal.
Watch Black Ink Crew Chicago, next Monday at 9/8c!