Erica Mena Calls Out Cyn Santana Over LHH Unlocked Comments!
Last week, Cyn Santana and Johnathan repped for the cast of "Love And Hip Hop New York" on the "Love and Hip Hop Unlocked" 4 part series. The show promised secrets but instead, it was an actual waste of our time. The cast just screwed around and collected a check joking with each other. And the host Kendall Kyndall was dreadful, talk about playing it safe and NEVER getting to the secrets. Boo VH1 the show is garbage, but we get it you need something for Love and Hip Hop since everything is still not filming.
The only exciting thing is Erica Mena trying to make something out of nothing. Read on…
CelebnReality247.com reports that ex-lovers Erica Mena and Cyn Santana still have that exes thing going on, since Mena is objecting to Cyn's statement.
"Love And Hip Hop New York" star Cyn Santana and Erica Mena have had plenty of drama on the show. Cyn moved back to men with Joe Budden after she and Erica called it quits. Unfortunately, that didn't last after Cyn gave birth to Joe's son.
Why Erica Mena and Cyn Santana Continue to Shade each other:
The Love & Hip Hop couple parted ways. When it came out that Joe Budden and Cyn parted ways, Erica decided it was a great time to see if she could get a reunion between Joe and Tahiry Jose. Hooking him with his ex-backfired and Tahiry would later accuse Joe of being abusive towards her while they were together. Joe denied this and then said Tahiry used to be violent with him.
What Happened to Erica Mena?
Erica found love with Safaree Samuels. But when people first found out about their romance, they weren't so sure about it. Joe and Cyn didn't like that Safaree didn't tell him he was with Erica. So when they found out Erica was in Costa Rica during the cast's group trip, they were livid. They felt Safaree was untrustworthy. Cyn and Joe Budden felt some type of way about Erica Mena being in Costa Rica during the cast trip. They felt as if Safaree should have given them a heads up.
Anyways, while discussing this scene on "Love And Hip Hop Unlocked," Cyn said that she was upset because Erica was hiding out in Safaree's room.
Here is what Cyn said about Erica that pissed her off:
Nothing really went through my head but what I think was really frustrating for Joe and I was that Safaree and Joe and I were actually friends. And nobody knew about him and Erica at the time. It was like a whole thing and when we found out she was hiding in the room it was weird.
Erica Mena Responds to Cyn Santana:
What's WEIRD is how this chick continues to lie on me after all these years. If I was hiding in a hotel room why did I go viral riding a horse? After all I was really on vacation. Why she simply can't admit that she was stalking my IG. The truth on how she knew my actual location.

She said more in another tweet:
The lies really have to stop at some point. I've been publicly bash because of all the lies this female has made about me throughout the years of filming. What's even worse is that people really believe her BS and feel sorry for her. If you can't be honest just don't speak on me.
The #LHHUnlocked crew try to match fellow cast members to the messy vacation situation they found themselves in… ?

Don't miss all THE OTHER secrets we unlock MONDAYS at 8/7c! pic.twitter.com/4ADuemGYXu

— Love & Hip Hop (@loveandhiphop) January 5, 2021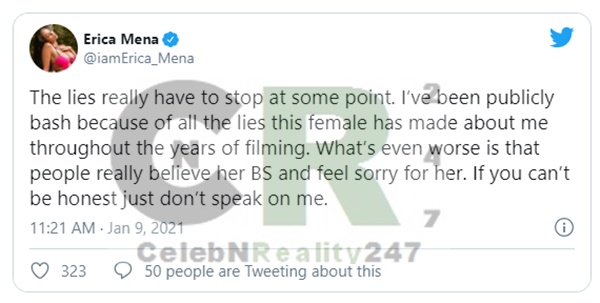 The lies really have to stop at some point. I've been publicly bash because of all the lies this female has made about me throughout the years of filming. What's even worse is that people really believe her BS and feel sorry for her. If you can't be honest just don't speak on me.

— Erica Mena (@iamErica_Mena) January 9, 2021