Joe Budden and Cyn Santana have been going through their own relationship woes, dealing with fake reports that he was spotted cheating.
However, Joe Budden who is no fan or Erica Mena since she has a history with his ex-fiance Cyn Santana took to the airwaves to spill some tea on Safaree leaving her. Read on to see as Erica Mena CLAPS BACK at Joe…
CelebNReality247.com reports that Joe Budden and his crew haven't stopped the infamously opinionated reality star from speaking out about other people's relationships.
Joe Budden, Mall, and Rowry were chopping it up on the Joe Budden Podcast Episode 248 "Keep It A Buck" when Budden dropped the hammer on Erica Mena and Safaree Samuels relationship being O.V.E.R.
Budden mentioned the rumors that Erica Mena and Safaree Samuels had broken up after she allegedly confronted him over texting another woman.
The State of the Culture moderator happily spilled the tea that "Safaree broke up with Erica."
Word is, Joey caught wind of what the Love & Hip Hop star said of her relationship, so Mena took to Twitter to clear things up, stressing that his claim is furthest from the truth.
After the news that Erica and Safaree started trending, Erica Mena made sure to address Budden saying:
FYI to all you flogs if my 'Fiancé' were to EVER get caught texting any female but me he wouldn't be able to walk right now," she tweeted. "Believe dat! Sincerely a real crazy Latina.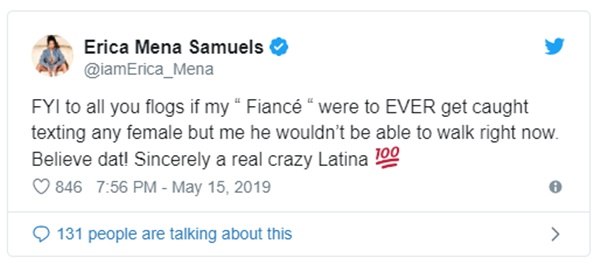 Following Erica's clap back, Joe confirmed that he is single when the crew talks about leaving New York and moving to Los Angeles.