On Sunday's episode of The Real Housewives of Atlanta, Eva Marcille got candid about her donor, aka her ex-boyfriend Kevin McCall, who she has a restraining order against.
The American Next Top Model winner claims that she and her family have had to move five times to flee from Kevin. If you recall, Eva Marcille and Kevin McCall have a rocky past. Read on for more tea…
CelebNReality247.com reports that the 34-year-old model split from McCall back in 2015, a year after giving birth to their daughter, Marley Rae.
Since then Eva Marcille has taken multiple restraining and protective orders out against McCall, alleging domestic abuse.
Of course, Marlo Hampton didn't buy any of her stories since Eva is always posting her location, but in her defense, she does have a restraining order, so if he shows up, Kevin is arrested.
Marcille, referring to McCall as "Marley's donor" only explains:
I still feel a sense of threat. I have had to move five times, and I still feel a sense of uneasiness. He's just so petty sometimes. I've walked outside of my balcony before and he's been standing in the dark. And it is the scariest feeling ever.
According to Marcille, she lives in more than one house to make it harder for McCall to track her.
Every time I move, he finds me. Because of that, I live in multiple places. Safety is a priority for me.
On the flip side record producer, rapper, singer and songwriter Kevin McCall, 33, had this to say about Eva.
He posted this on Twitter:
Imma just sit this right here. No debate necessary…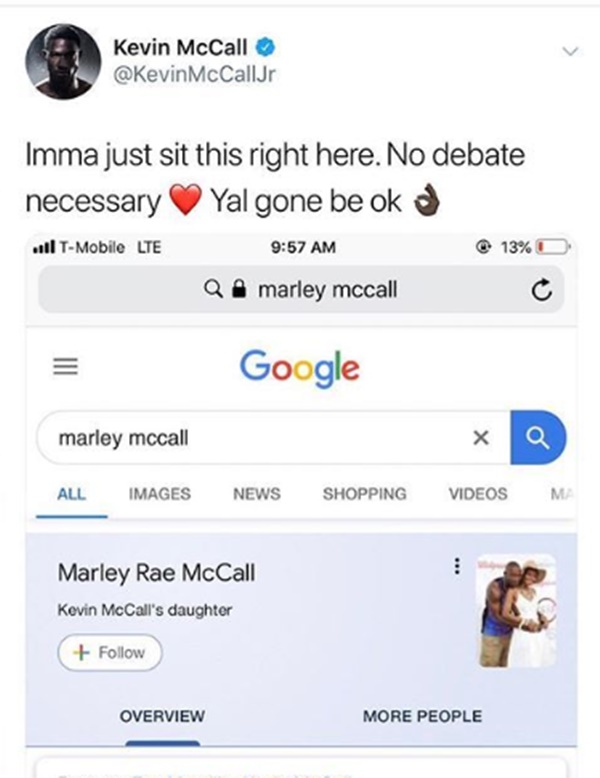 Kevin also writes he was the victim of "parental alienation," writing:
I'm sorry for everyone who had a s—ty father. Unfortunately, I'm nothing like him, I'm just trying to set up 'supervised visitation' at a police station.
Then, Grammy-winning Artist/Writer/Exec TV PROD, Skrill-Dilly points out that Eva is Lying to make herself look good on Real Housewives of Atlanta.
Skrill-Dilly weighed in saying:
I'm disgusted at the lies @EvaMarcille is spewing about my bro @KevinMcCallJr… He hasn't been to ATL in FOREVER! That's why he can't file for visitation. Because he doesn't live here nor has he been here to see Marley.
He points this out about Eva as well:
I've been around willing and able to help for years now and you don't speak on that!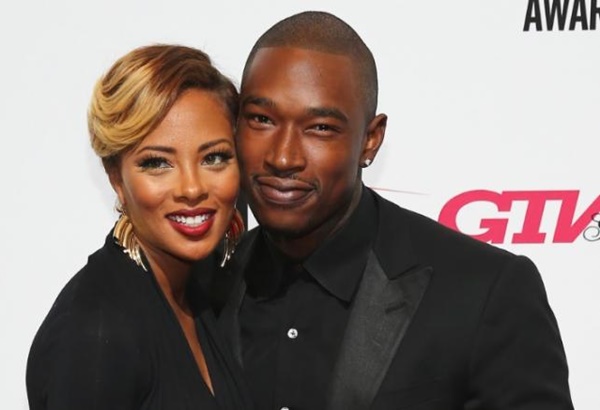 Despite what Kevin has stated, Eva makes sure to state that he hasn't been there for Marley.
Eva tells PEOPLE:
There's no co-parenting, I'm the parent. He's not in my life, and he's not in Marley's life. I have full custody. Michael is Marley's father. [Kevin] ain't nothing but a memory.
Marcille is still bitter about the split from McCall and how he's an absent father had this to say:
He thinks that biology is more important than being present. He's extremely dysfunctional and he's not at a place where it's safe for himself or for others.
If Kevin wants to see his daughter, then she suggests the court system:
He should have to go to court and talk mediation. I'm open to Marley having the best of what she needs. If he's at a place where he is happy or good and where life is good for him… to be a parent, you need to be responsible. You need to learn how to be selfless.
Eva has a lot to say about Kevin, but the multiple homes seem to be a bit much.
Marlo also said she has multiple ex-relationships with women in Los Angeles. That is true, we have a close source who used to hang out with Eva and her girlfriend. Plus the source also told us about her times hanging in Puerto Rica at San Juan brother events (all male gay event). That tea is 100% true.