Gia Giudice Responds To Jackie Goldschneider's "Cocaine" Analogy!
Real Housewives of New Jersey Teresa Giudice's daughter is now speaking out about Jackie Goldschneider's "Cocaine" Analogy via her Instagram Stories on Wednesday night after the premiere. Read on for more since Gia Giudice Responds Jackie Goldschneider…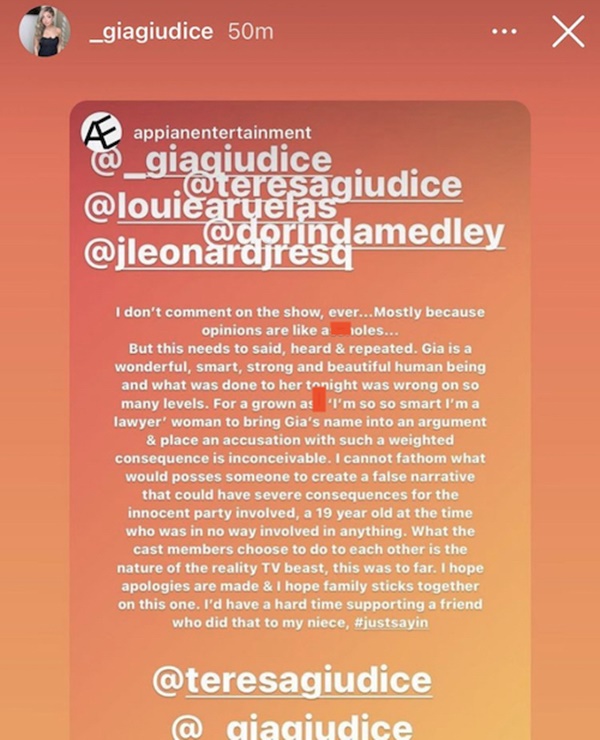 CelebnReality247.com reports that Gia Giudice reacted to the shocking drug analogy Jackie Goldschneider made against her on the premiere episode of The Real Housewives of New Jersey.
After watching Jackie suggesting she heard that Gia was doing cocaine in the bathrooms at parties while trying to get through to Gia's mom Teresa Giudice for spreading a false rumor about her husband Evan Goldschneider cheating – things went way left.
Instead of Gia's mom, Teresa Giudice understanding that it was an analogy aka a RUMOR with no proof like Teresa claiming Evan was cheating, Teresa lost her cool.
Now, Gia reacted to the drama by sharing a message from Teresa's business manager.
Gia is a wonderful, smart, strong and beautiful human being and what was done to her tonight was wrong on so many levels. For a grown a** 'I'm so so smart I'm a lawyer' woman to bring Gia's name into an argument [and] place an accusation with such a weighted consequence is inconceivable. [the message, which was shared via screenshot by All About the Real Housewives on Instagram]
Jackie has tried to clarify that it was just an analogy about Gia. She even spoke on her relationship with Evan and if she will return for another season of Real Housewives. Jackie took to Twitter to explain everything.
What do you think about her response?