Real Housewives of Atlanta's Apollo Nida wasn't able to see his boys when he got out of prison but he was able to call them.
See, Apollo Nida is up in Philly staying in a halfwayhouse until his probation is done and he is cleared by the authorities. His kids are with Parks in Atlanta. Until then he is a phone call away. Read on…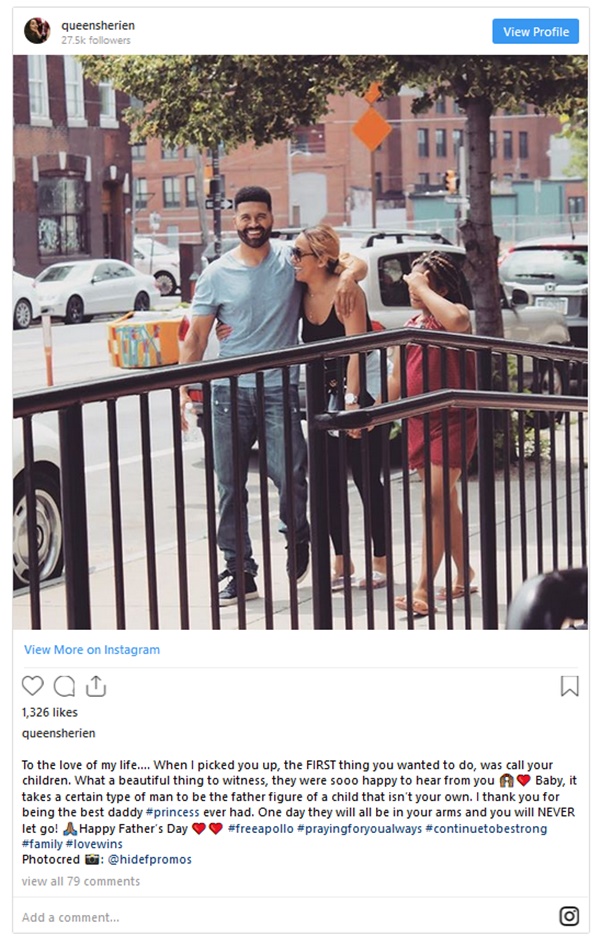 CelebNReality247.com reports that Apollo served nearly 8 years in federal prison for fraud, and was released to a halfway house and since then he is sporting a full beard and a small afro.
We have to say, Apollo Nida is looking like a snack and his fiance Sherien Almufti can't get enough of the muscled hunk.
Now his fiancé Sherien is speaking out, and claiming that Apollo never got to see his kids upon release.
She took to social media on Father's Day speaking on the love of her life:
To the love of my life… When I picked you up, the FIRST thing you wanted to do [was] call your children. What a beautiful thing to witness, they were so happy to hear from you ???? Baby, it takes a certain type of man to be the father figure of a child that isn't your own. I thank you for being the best daddy #princess ever had. One day they will all be in your arms and you will NEVER let go! ??Happy Father's Day.
Apollo is that bad boy who gets the ladies panties wet, because he met Phaedra Parks while he was needing representation during his legal issues back in the day.
We find it interesting how he just swoops up women from behind bars, but he has the body, and he is easy on the eyes.
Last week, it was announced that Apollo was back behind bars.
It turned out that he missed his curfew time getting back to the halfway house.
The Blast reported:
A representative of the United States Marshals, Nida has been re-arrested only days after being released from custody and placed into a half-way house in Philadelphia. Nida had a list of rules to follow while living in the halfway home and we're told he broke technical requirement pertaining to the rules of his release.
Word on the street is that Apollo violated his curfew, but police are not confirming why he was re-arrested.
Then his fiancee Sherien Almufti came forward saying he did nothing wrong.
Interestingly enough, she may be the main reason he's was re-arrested.
Nida is back with Sherien and back at the halfway house.