Friendships on Love and Hip Hop Atlanta seems to have turned for the worst while on their trip to Trinidad.
Karlie Redd quickly finds out that Shekinah and Tokyo Vanity are the definition of G.H.E.T.T.O. because all they do is complain about new things. She quickly realizes that she should have left them back in the A. Read on…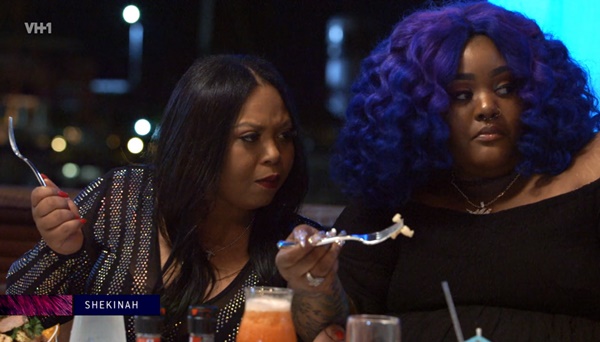 CelebNMusic247.com reports that during the group's trip to Trinidad, Karlie Redd clears the air with Bambi and Kendra, Yung Joc's lady.
When it comes to Shekinah and Tokyo Vanity she vents her frustrations with complaining duo because their attitudes are stuck on stank!
Karlie Redd feels "at this point they should have stayed home in Atlanta."
In the video below all you see is Shekinah and Tokyo Vanity making stank faces, playing with the food and smelling it like its foreign.
These two women obviously have NO CULTURE!
Hip Hop culture yes, but outside of that they scoring ZERO for world culture, and that is something everyone NEEDS to have.
You can't live your life in one city and never see the world. Tokyo Vanity moved from New Orleans, but she still acting just as ghetto.
Karlie expresses her feelings to Rasheeda saying that when you do something nice for your friends that the least they can do is be nice back.
That is when Shekinah asks "who not being nice Karlie?"
We get what Karlie is trying to say, but sometimes you have to just accept your friends for who they are. Shekinah and Tokyo just don't know any better and it's Karlie that has to show them something different.
Ok, that is out the window since Shekinah gets up and sounds off telling Karlie "you don't want me to tackle your ass…stop it," in Trinidad.