After Lyfe Jennings went on record calling Karlie Redd an opportunist. Love & Hip Hop Atlanta's most famous ratchet chick Calls Lyfe Jennings A B-tch @ss Man!!!
Flip and get all the tea being spilled on Karlie Redd Calling Lyfe Jennings….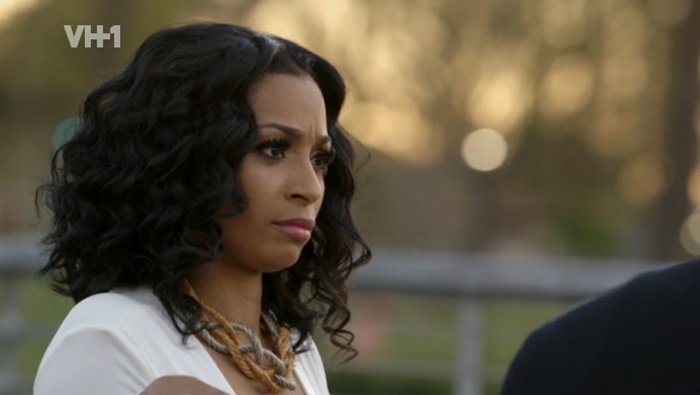 Since things did work in Karlie Redd favor with established artist and fool in love Lyfe Jennings. Karlie flipped the script and has BLASTED Lyfe, calling him a "B-tch @ss Man"!
Don't get your face cracked girl! Were you not the one kissing on Scrapp DeLeon on Love & Hip Hop Atlanta 5 claiming you have a new boo?
Talk about ratchet, Karlie was still with Lyfe. He said that she requested that they had an open relationship because she works on LHHATL. To make matters worse, Lyfe was watching the show with his kids when Karlie was kissing on Scrapp. Apparently Karlie was ready to be Scrapp's Trap Queen?  He said he didn't even know about that. His kids question his new girlfriend and he was forced to explain. From that point on Lyfe was DONE with Karlie. Since then she's been doing interviews trying to spin it that he lied to her and has a wife, so she moved on. NOT THE TRUTH! Lyfe REVEALS that her WASTED THE D on Karlie HERE…
Here is how Karlie spun her web of untruth's on LHHATL 5 this season when Jessica Dime drops the bomb on Karlie Redd that her bae, Lyfe Jennings, is married. Karlie is more than a little shocked and has some not-so-kind words for the "Must Be Nice" singer. That is when Kalie goes in on Lyfe calling him a "b-tch ass man."
Watch:
If you watched Monday's episode, then you saw the moment Karlie fainted when Lyfe proposed to her?
Yeah, that was way before he learned that she was doing Scrapp DeLeon. Karlie is a messy girl out for Karlie Redd. We understand drive, but throwing other people under the bus to make yourself look good? It's a lonely world when she gets older and no one trusts her anymore.
Lyfe Jennings and Karlie Redd set the record straight for each other in this Love & Hip Hop Atlanta highlight clip. Karlie did some social media snooping after hearing rumors that Lyfe tied the knot with another woman, and found a post that causes her to believe those rumors were true.
Karlie confronts Lyfe saying that she heard he was married. And that is when Lyfe shut her down telling Karlie that she misread the claims of Jennings being married to another woman. It was all a question of question marks, ellipses, and wording. According to Fashion Style, a woman with an Instagram account titled "Officially Mrs. Jennings" wrote that she would make a better wife for Lyfe than Karlie would.
The text read:
"Married? No…better for Lyfe than Karlie? Yes…"
Karlie apparently got wind of that Instagram photo and reposted it, with Redd wishing the woman a "Happy Side Chick Valentine's Day, boo."
While back then Karlie was bragging about the ring that Lyfe gave her, more recent videos make it appear as though Red and Jennings are not engaged or married.
"'Married? No…better for Lyfe than….' Me?? KARLIE? Definitely!! Who got the ring though?"
Check how it played on out on Love & Hip Hop Atlanta and how wrong Karlie was:

So did Karlie get engaged or did it fail?
Don't miss an all new Love & Hip Hop Atlanta, next Monday at 8/7c!