Love & Hip Hop Atlanta star Karlie Redd is sick of FAKE NEWS!
Karlie Redd has sent out warning shots to all media to STOP with the bogus reports!
Over the weekend it was reported that Karlie Redd caught her new man and fiance, Maurice Mo Fayne, sliding into a strippers DM. Read on to see what Karlie is doing about it…
CelebNReality247.com has the latest from Karlie Redd and Mo Fayne who are seen below cozy together along with the caption:
STOP ? with the FAKE NEWS! Be happy for us! #ferrarikarlie
We get it, Karlie Redd is engaged and she doesn't want some FAKE NEWS ending her engagement to her Dallas, TX hunk Maurice Mo Fayne.
They look very happy together despite reports that he is sliding into a Charlotte-based stripper named Candi Chanel.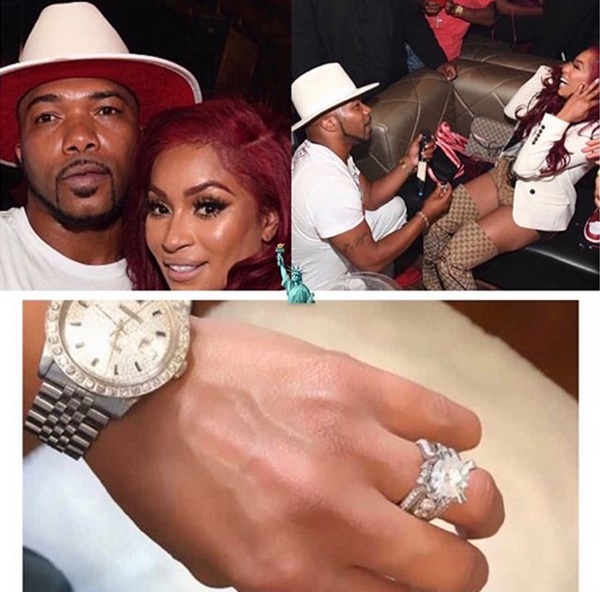 Who is Mo Fayne?
His full name is Maurice "Mo" Fayne
Mo owns Fayne Trucking Llc; a licensed based DOT registered motor carrier company.
Fayne got engaged on 19 July 2018 during Karlie's release party for the track Ferrari Karlie in Atlanta club, Buckethead Loft.
The truck company owner gifted a $150 thousand ring to his lady love Karlie Redd during their engagement.
The giant ring was a whopping 18 carats consisting of a diamond.
His second engagement gift, an Italian luxurious vehicle Maserati has a starting price of $58,758.
Maurice Fayne is a native of Little Rock, Arkansas and currently resides in Dallas, Texas.