The Anaconda of Jamaica, Safaree Samuels is determined to wife up!
Despite his recent feud with his ex Nicki Minaj, Safaree Samuels is ready to put a ring on it, all he needs now is a woman. Read on for the deets…
Rumors have been swirling that he smashed Lyrica Anderson on LHHH, and that he was rumored to be dating JuJu. CelebNReality247.com has heard that none of it is true.
Now that we have that out of the way, remember we told you that Safaree said he was holding off on having sex until it was with his wife.
It seems that Safaree Samuels is keeping up his end of things and taking it to the next level.
The "Hunnid" rapper's latest statement informs his followers that he's planning on purchasing an engagement ring in hopes that Cupid will bring his perfect wife.
Well, they say if you put it in the universe it will come to you, but this is much.
Safaree posted this Tweet:
I'm seriously about to buy an engagement ring and pray that will bring the spirit of bringing my wife to be into my life!! Whoever she is will have the baddest rock a finger can hold?? I just wanna ice her up ??.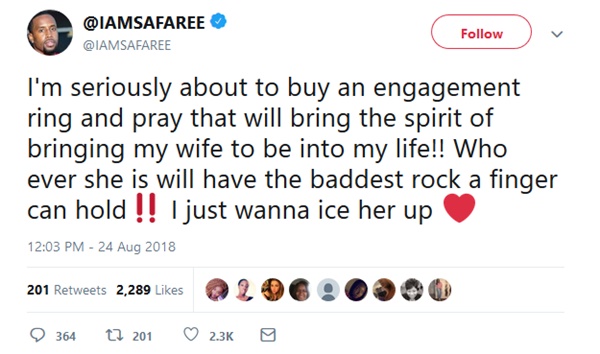 We hope it works out for him, but this is two steps away from crazy. He needs to know the woman he marries.
He doesn't want to get tricked by a THOT!
Somewhere Nicki Minaj is #LAMO and #SMH