How many years has it been since Ray J and Kim Kardashian-West made their sex tape?
It appears Kim Kardashian-West is trying to use her platform to re-tell her past with lies. Read on because Ray J is saying Kim is Lying…
CelebNReality247.com has the latest turn of events when it comes to the Ray J and Kim Kardashian-West sex tape that put the Kardashians on the map.
Without that sex tape, the Kardashians would just be a group of sisters smashing ballers and rappers.
Instead, the Ray J and Kim Kardashian-West sex tape made a name for Kanye West's wife.
It's hard enough when other people are talking about it, but when she brings it up in public, that's gotta extra … Ummm, er, interesting, right Kanye?
Yep, Kim K is in the news again, but this time she is now claiming she was under the influence of ecstasy during her Ray J video.
Not only that she claims that she was also on ecstasy when she married producer Damon Thomas at 19.
Kim Kardashian-West also states that she only did the drug twice in her life, she says they were both bad experiences.
Wow, she is truly trying to rewrite her past with lies and assumes that her fans are stupid.
Basically the sex tape with Ray J was bad, but she became famous because of it. The second time was with her first marriage to Damon Thomas, which was an EPIC FAIL. (Basically, he did nothing to boost her career).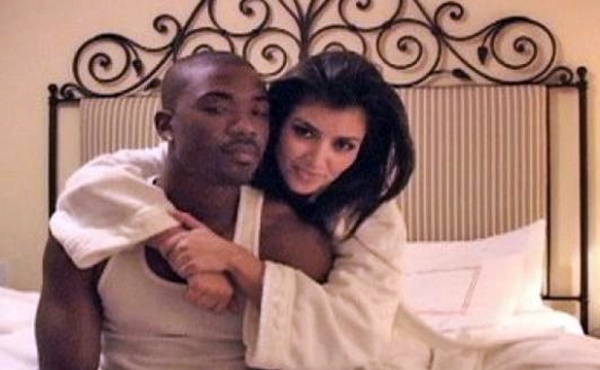 Kim's lies are NOT sitting well with Love & Hip Hop star Ray J:
Ray J has come out saying that she's lying when comes to her being under the influence of the drug. Ray J makes it clear that Kim Kardashian-West was completely sober when they recorded their now historic dirty deed.
Basically, Kim is planting the seed that she was in an altered state of mind when doing the sex tape? She is trying to make it that she wasn't responsible for her actions?
TMZ reports:
Ray J sources say Kardashian-West took no hard drugs nor did she drink alcohol during the filming of the sex tape. On the other hand, she hit the pot pipe around the time the tape was made … and it was from a pipe shaped like a penis.
As for Kim saying her lip quivering was evidence she was on ecstasy, the Ray J sources fire back:
Her lip was quivering because she was getting F****D.
Sources close to Kim tell us she stands by the claim she made on the show. She is trying to influence fans to believe the lies that she's spewing. Maybe she is doing it for her kids before they realize mommy smashed a famous dude to be famous herself.
Ray J remains adamant that she is FULL OF IT! The "I Hit It First" singers sources say he's beyond perturbed that Kim would suggest she did the sex tape because she was in a significantly altered state. Nope, she can't go there. They say she was down with it from the beginning and all the way through.
Kim STOP trying to change your past with lies. Doesn't this sound like another Kris Jenner PR stunt to clean her daughter's name?