Right about now, the Don't Be Tardy star Kim Zolciak-Biermann is literally looking like a racist bigot after stating that racism "wasn't real" and that it was only "magnified by social media."
That is NOT the only dumb thing that came out of her mouth on the Real Housewives of Atlanta Reunions Pt 3 on Sunday night. Read on to get the tea on the 5 ridiculous things Kim Zolciak-Biermann said…
CelebNReality247.com was a fan of Kim Zolciak-Biermann up until this season of Real Housewives of Atlanta. This season she was a utterly nasty and left us with a bad taste in our mouth.
So what did the OG of the Real Housewives of Atlanta star say on the season 10 reunion? Kim Zolciak was in FULL denial mode while in the hot seat on a number of topics.
We find that interesting because back in 2010, Kim admitted:
No. I've never denied anything. I don't lie. I'm not embarrassed by anything I've ever done in my life.
Oh how things have changed since she married Kroy.
Here are the 5 Ridiculous Things Kim Zolciak said on the Real Housewives of Atlanta 10 Reunion:
5. Kim Lies About Starting Beef Kenya Moore at Sheree's:
When asked about what started the beef with Kenya Moore, Kim, 39, rolled her eyes. Kenya weighed in saying it all started when Kim verbally attacked her at Sheree's house for going in the basement at her house warming party. Instantly, Kim fired back, saying Kenya started it by saying Kroy was out of work and she need to worry about that. WRONG! Kim got nasty first and told Kenya to watch out because her p—y was falling out of hr dress, so Kenya fired back. The two have been beefing since. by the end, Kenya, 47, said, "This woman is the RUDEST Person in the world." That's a lot from Kenya. Even Cynthia Bailey, 51, weighed in on Kim, telling her "she's NOT hearing it because she straight up attacked Kenya at Castle Leakes party for no reason." Kim just say there with her over inflated lips and double chin rolling her eyes. #NOTFEELINGHER
The feud ended up pulling in John Legend when Kenya BLASTED Kim for "pimping her daughter" for tickets to John's show. Kim claims it was a joke, but John was NOT pleased with Kim offering up her daughter for tickets.
4. Petty Kim has Poor Excuse Over the ADA Parking Photo:
Kim was on Petty mode all season when it came to her former "partner in crime" NeNe Leakes, 50, taking a picture of her car parked in a handicap space. She posted it on social media talking ish, but when confronted by NeNe, Kim claimed she wasn't at the mall and didn't see her. If that was true, why did NeNe see her there and Kim walk by like she didn't know her? Also, why did she take the picture of NeNe's car in the ADA parking? Apparently, Kim didn't know Gregg Leakes [NeNe's old meat] had an ADA plack. Kim NEEDS to get her facts right. #SMH
3. Kim Lied About NeNe Leakes being on Drugs:
Kim and NeNe's friendship will NEVER return especially after she claimed that NeNe Leakes is on drugs. That is damaging when a person like Kim [who carries a cup of wine everywhere] makes a false accusation. It could ruin NeNe's brand, unfortunately Kim did see how her false claims could affect someone else. If she was a real friend she would have waited to talk to NeNe instead of spreading lies to Shady Sheree the "bone collector." Kim Zolciak is too clueless to realize she was making enemies all season, NOT friends.
2. Zolciak Came off a Racist Posting a video of Roaches in NeNe's bathroom
Zolciak returned to housewives to pick up where she left off, thinking it was cute to start mess with everybody, but it was dumb. Kim has been messy all season, but the worst thing she did was post a video of NeNe Leakes bathroom saying "she has roaches." This is where the racism comes in. Kim doesn't get her remark because she's white, but if she is so cool with black people like she claims then she should understand where her friends are coming from. She doesn't
If you recall, Kim posted the video after Sheree twisted the truth about NeNe revealing all of Kim's surgery's and disabilities. Kim retaliated in anger with the video of roaches in the bathroom, which was taken at the white party that she was NOT invited to. Sheree broght Kim as her plus one. Kim was tacky and brought Brielle. Don't you love how uninvited guest just think they have the right to bring other people to a party? #Tacky
After Kim's attack on social media NeNe Leakes took to Instagram to express how that made her feel:
That word 'roach' just ain't the word I needed to hear her saying. It sounds very racial when you are speaking to an African-American person and talk about roaches. Because people feel like you associated that with the ghetto or trash. Black people do not receive that very well.
1.Kandi Burruss SHUTS Kim down Dishing Dirt on Zolciak's gay relationship with DJ Tracy:
Things got heated between Kim and 41-year-old Kandi Burruss when she said she licked her box. The two went back and fourth because Kandi was pissed over the box remark and Kim was angry Kandi said she had a drinking problem. Kim said on camera she doesn't drive because she needs to drink to do anything. Kandi replied that she had a drinking problem. Sheree Whitfield, 48, tried to tell Kandi too NOT say that, but that just angered Kandi. That is when the biggest bomb of the night dropped on The Real Housewives of Atlanta Reunion!
Kandi Burruss was very upset Kim would make up some BS like that after Phaedra Parks lied all season 9 and had Porsha Williams, 36, spreading the lies. Kim FIRED BACK claiming the incident happened on their last vacay together. The only problem the woman with the drink in her hand must not have a good memory because Kandi spilled tea all over the reunion floor. Mrs Burruss let Kim have it, saying that was NOT me, it was DJ Tracy who was licking her box, while Kim's daughter's were in the other room.
Back in 2010, Before she married Kroy Biermann, Kim Zolciak was in a gay relationship with DJ Tracy.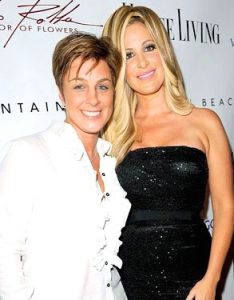 Remember Kandi said they all knew things about each other that they didn't reveal on the show or on social media, well this is a big one and Kim Zolciak was NOT happy about this reveal on Sunday. Kandi went there and BLASTED Kim's lying @SS!
Reality Tea reported:
Kim came out to Life&Style magazine for a mere $20,000. Paycheck. Although, a week after the story came out, the 31 year-old reality star split from her girlfriend DJ Tracy Young claiming that the lesbian relationship was only a fling and nothing serious.
Now, she denied the whole thing on The Real Housewives Reunion last night, but Reality Tea, spilled the tea on Kim and her girlfriend eight years ago. A hurt DJ Tracy opened to blogger Jonathan "JJ" Jaxson, who also happens to be Kim's former publicist.
Tracy dished all the dirt on how they fell in love:
Kim got in touch with me and said she was coming to LA to be performing on the Ellen Show and she wanted me to go with her." Tracy said later that night, "she texts me from the back of the SUV we were riding in to say that she thinks she likes me."
It was obvious, Kim didn't want anyone to know she was swimming in the lady pond.
DJ Tracy revealed that she and Kim dated for three months and "Within a week of being together she mouthed the words 'I Love You' to me." Kim and Tracy were inseparable living in "her Duluth townhouse along with her two little girls." The spent one Christmas together, but it was when "Kim begged me to come on [Season 3 of the Real Housewives Atlanta] and be her girlfriend" Tracy refused. Kim tried again for a money grab and Tracy said no a second time.
Shortly, after Kim couldn't get a story line secured for Housewives, and her daughters learned mom had a girlfriend, she dumped Tracy. Months later, Kim was dating Kroy and she landed her own series of Bravo, "Don't be Tardy."