Love & Hip Hop may be over, but Kimbella's life has NOT stopped and we have the latest from the newly wedded mommy.
Kimbella is holding it down for her man while her husband, Dipset rapper Juelz Santana, is currently serving a two-years-long prison sentence. Read on…
CelebNReality247.com reports that Kimbella is staying positive by providing weekly social media updates to fans and followers.
New mom to be Kimbella revealed that she and their children recently visited LaRon Louis James best known as Juelz Santana, that he is in good spirits.
Kimbella Vanderhee-James said:
That's MY Husband!! I miss him SO much and so do the kids, we went to visit him Saturday that just passed and what a blessing!! To see my Husband and their father in a tailored Khaki shirt, Tailored Khaki pants and Timb's on to set the mood!! Lol, your boy is doing just fine!! Had D&G cologne sprayed on and a fresh new cut just to see us! Too bad in the feds we don't get conjugal visits chile But the kids were sooooo happy to see him doing well and being able to hug and hang out with him for some hours! He was smiling and was so happy to see us, he had nothing but good things to say about the camp he's at. It of course, was so sad to leave when it was time to go. I just hope this gets easier the more we go visit and with time. I know he will be home soon now that he has started his sentence, and with God & Prayer, we will be good overall! Because we are Blessed regardless of the circumstances at hand I'll be back to update you all on our progress through this. We appreciate all your prayers & support at this time! Week 3!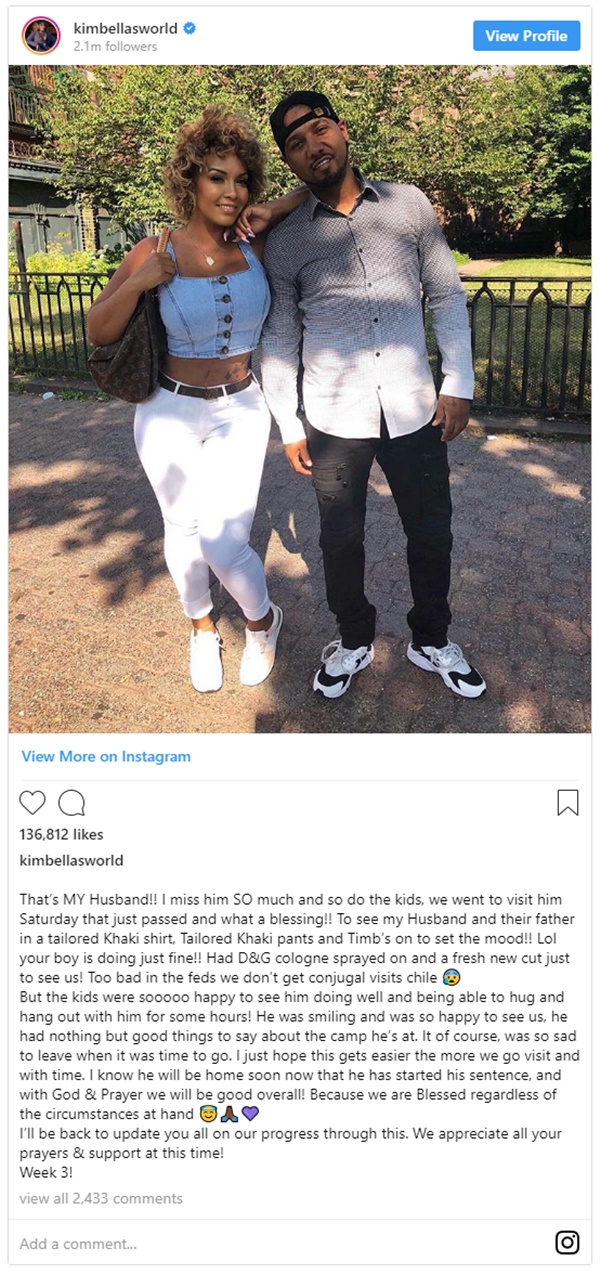 Following the Love & Hip Hop Reunion here is what went down between Kimbella and Yandy:
Then this happened:
Kimbella says she has not received support from a friend in the very same situation – "Love and Hip Hop New York" castmate, Yandy Smith. A fan requested an update in the comment section.
She replied to her fan saying: