Before you think that Juju On Cam'ron was getting back together, think again because that ain' happening.
Juju makes it clear "we're NOT getting back together, move on." Read on for the tea spill…
CelebNReality247.com reports Juju made it evident that she is not and will never be rekindling her 10+ year relationship with rapper Cam'ron.
JuJu and the Dipset member broke off their relationship in 2017, but social media is still hoping the two get back together.
She took to Instagram to clear the air and let everyone know, that ain't nothing happening when it comes to Cam'ron.
A follower on social media said to Juju:
I can't wait for you and Cam to find your way back.
That is all it took for Juju to clear the air and let everyone know:
Aww sis that's not happening, I suggest you move on .. as we've done.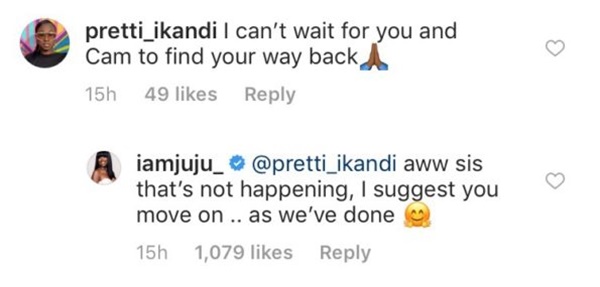 Cam'ron and Juju who had been dating since 2002 called it quits in 2017 alluding that social media was to blame. Cam stated that she was questioning him about women on his social media. Things escalated and at the end the split was a mutual thing. There were many rumors he was cheating, but the couple has kept it private and putting their relationship behind them. That chapter is closed for Juju.
According to Juju says the relationship lacked communication and he didn't eye to eye on her emotions.
She writes:
Cam and I, we were really good friends and he said it wasn't fun for him anymore and I was concerned about what was going on Instagram and saying who he was following and that's not true. And that's's not true, I basically was more concerned about the respect level.. there's d*** pics up and down my Instagram as well and I didn't like them out of respect, my thing was, don't do what I don't do to you, respect me… And it's not because of Instagram, it's because the things you [Cam] were doing concerning IG, and you didn't respect my feelings, we had a really good friendship, so I felt that if you are going to the game with a female friend or anybody, you should be able to tell me.. Cam for the past year was pushing me away.
At the end of the day, she has moved on saying:
Living My Life like it's Golden ?