We just got word that LHHNY Season 7 Started Filming only weeks after season 6 reunion show wrapped!!!
Get the latest details on who is returning to LHHNY Season 7 on the flip…

CelebNReality247.com got the news from a reliable source (one of the producers) that Love and Hip Hop New York Season 7 has started filming.
Word is that only some of the main cast members have begun their duties of letting Mona Scott-Young into their personal space and to be filmed every second of the day.
According to Love & Hip Hop Tea on Twitter, VH1 must have big plans for LHHNY next season if they are already taping scenes. With Love & Hip Hop Miami on the way with Mystikal, Trick Daddy and Trina on board, it seems Mona filming schedule has gotten a bit tighter, so she has to realocate her filming times for NYC, Hollywood, Atlanta and the newbie, Miami.
In fact, this means there could be a slight shift in airing times for each season.
Here is what we do know thus far on LHHNY 7:
The tea-spilling on Twitter confirmed that Bianca and MariahLynn will be back on fans' screens for Season 7. Then they went even further to say that almost all the cast members from Season 6 will be back for another round. That leaves us to wonder who might be out since just about everyone will be back.

What leaves us wonder is if there will be anymore of the Peter Gunz love triangle with Tara Wallace and Amina Buddafly. Though it will be interesting that Peter will have two new babies with both of the women. It sounds like MUST SEE TV. There are multiple reports claiming that Amina left Peter and moved to Los Angeles, but we know that is wrong since a close source to Amina's camp was having lunch with her last week in NY, so she's back in the big apple filming.

The other aspect is what will be of Peter Gunz and Amina's marriage since she is still posting on Instagram in defense of their relationship. Amina has lots of HOPE for love to shine through, so that will also be interesting. In April, Amina wrote:

"I love my husband.. Always will and we are not divorced or divorcing. We are currently separated."


As for other cast members returning – we are hearing Remy Ma and Papoose are returning for 7 as well as the breakout star of season 6, Cardi B is back on board. It goes without saying that Yandy Smith will be returning since she is an Executive producer of the franchise. She is expected to return and to keep fans informed about Mendeecees Harris as he serves his eight year prison sentence that he began as Season 6 was wrapping up.

As for Rich Dollaz, the last we heard from him was that he was heading back to LA to swoop up Moniece Slaughter. We will see if he is back on Love & Hip Hop Hollywood season 3. His girl Jhonni Blaze has been posting comments about fighting Precious Paris on Instagram today, so rumors are swirling that she might be coming back after a season off. Then we heard that Blaze announced that she will be at least making appearances on Love & Hip Hop Atlanta instead. It's unclear how she will be introduced with the rest of the cast, but Jhonni will likely fit in with the Atlanta group better anyway.
Here is what was revealed on Twitter from an inside source: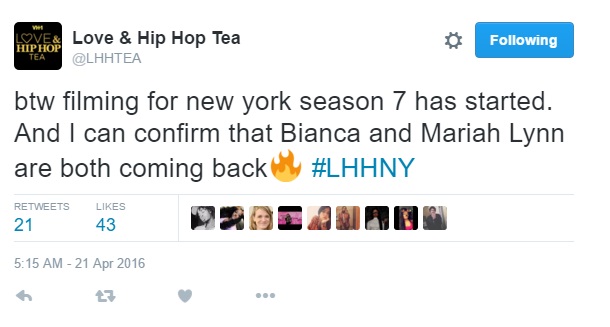 As far as newcomers to the LHHNY 7, there are no reports yet on what new blood that Mona Scott-Young might be bringing to VH1 for Season 7
Thoughts?
Are you looking forward to season 7 of LHHNY?
Photo: Getty Images