Now that the former Love & Hip Hop Atlanta star Erica Dixon has split from her baller , her ex babdy daddy Lil Scrappy Wants to Reconcile With Erica Dixon!!!
Now Scrappy has gone on record to make amends with Erica on the flip…
This was Lil Scrappy on his baby mama Erica Dixon last season during the reunion (above)and now that has all changed!
Now it seems that Lil Scrappy decided that it was time to put their petty differences aside for the sake of their daughter, Emani and he took to Instagram to call a truce with Miss Erica Dixon.
Scrappy took to his Instagram writing:
"I just want to say I love my daughter in every way and I'm so proud to be a father of somebody special that God made and no I'm not back with her mom in a relationship but we had a convo and we want to b the best parents for our daughter because all the stuff that we been going thru has weighed down and had my daughter stressed out so even tho I Dnt have to give no explanation cause I Dnt owe anybody but my daughter I just wanted to make it clear that we are trying to b good parents and for people to want us to beef or throw shade on each other for people's entertainment ain't happening and so all y'all bloggers and haters I laugh because u thought u had something lol I Dnt hate y'all tho get ya money stay blessed"
Here is what Scrappy posted on IG: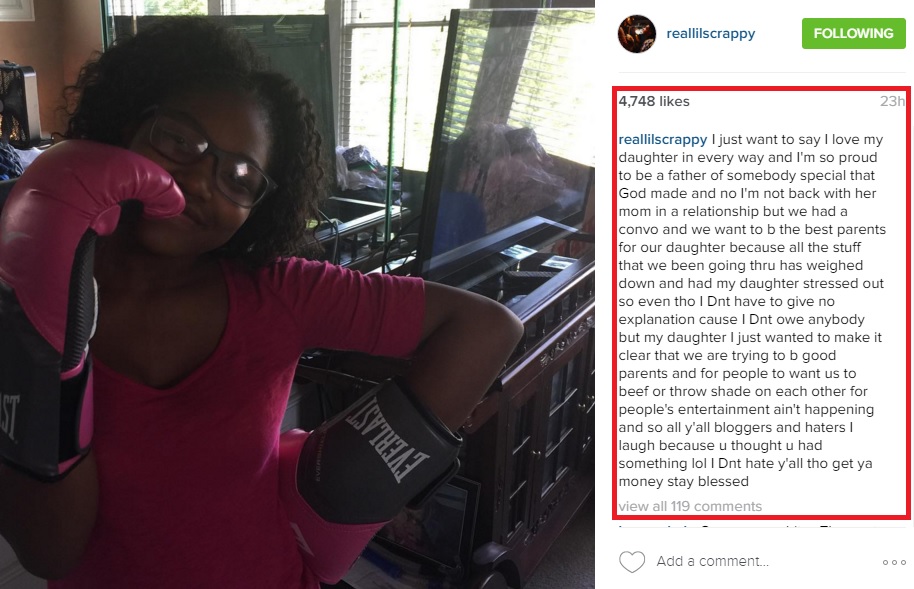 This is a far cry from the Love & Hip Hop Atlanta reunion last season, when Scrappy came for Erica attacking her parenting skills, and accusing her of asking for absurd amounts of money for child support
What do you think about Scrappy's apology?
Is Scrappy trying to make amends or is he one of those guys that is only cool when his baby mama Erica Dixon is single without a man?