We never thought we would have heard this, but Real Housewives of Beverly Hills star Lisa Rinna Feels RHOBH Boring Without Brandi Glanville!!!
Could this mean that Brandi Glanville might get her job back on Real Housewives? Find out on the flip….

There is no word that Bravo or the Real Housewives franchise has even thought of bringing back Glanville, but it would make for TV, according to Lisa Rinna!
Lisa Rinna went on record saying that her presence clearly was missed even though she will reappear later this season. Lisa Rinna obviously felt Glanville's absence as well, as she speaks about it on an upcoming episode of Kocktails With Khloe.
Here is what Lisa Rinna on Kocktails With Khloe, CelebNReality247.com has learned.
Rinna said:
"I think it's been harder to not have her on because she was so easy to play off of."

"She really was. All you had to do was hit the ball back. That's the truth. She knows that genre, she knows what she needs to do, she plays the game."
[rpi]
In additional news, Lisa Rinna Defends What Has Come From Her Lips!
Lisa Rinna's lips were made for talking, and that's just what they'll do. Well, those lips and what they have said have gotten Lisa into some trouble during this season of the Real Housewives of Beverly Hills. During this week's episode, she found herself in hot water for not saying anything at all, CelebNReality247.com has learned via Allabouttrh.
Lisa took to Twitter to defend her lack of words that night and her actions all season saying:
"I own my sh** no one holds a gun to my head but I will take you on down with me if you don't own your own sh**. It's that simple."
In fact, Lisa thinks that more of her co-stars need to take responsibility for their actions.
See what she tweeted: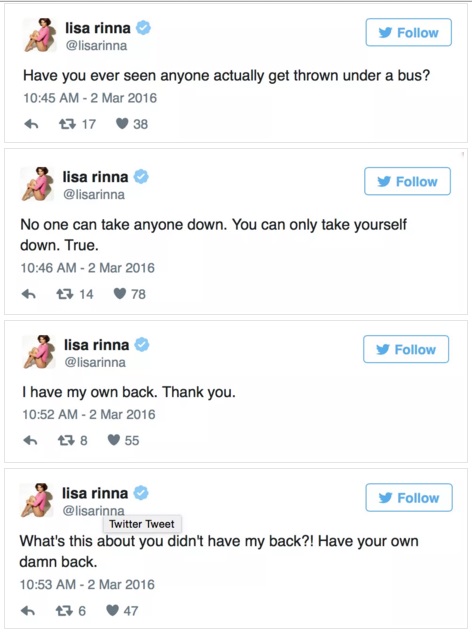 She also feels that her co-stars act too self-righteous when it comes to gossip: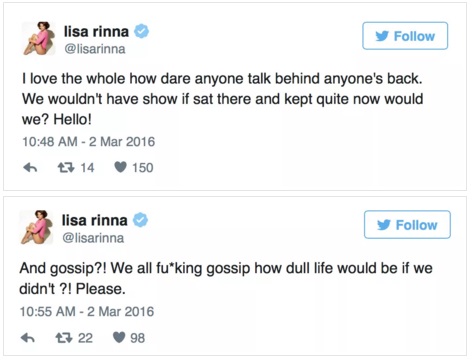 According to Lisa she's currently on good terms with both Lisa Vanderpump and Eileen: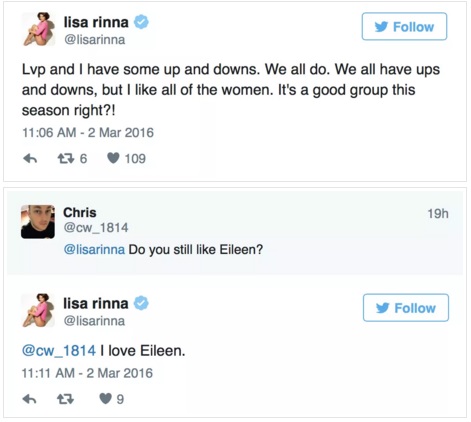 Yet Lisa claims she doesn't regret the way things played out. "I don't regret anything. I learn from all that I do. Sometimes the hard way."

Bottom line Lisa has no regrets!