Love and Hip Hop Hollywood is promising to have a lot of drama in the upcoming season, especially now that her ex-husband A1 Bentley and Yung Berg just got robbed.
Flip and check out Lyrica Anderson freaking out over A1 and Young Berg being robber while posting a live video on social media…
CelebNReality247.com has learned first have via Lyrica Anderson that she is grateful that fans alerted her that A1 was robbed and survived.
Lyrica Anderson and A1 marriage may have been on the rocks and heading towards divorce, but the love is still there. She lost it when she got the news, so she just had to post it online to prove she was distraught about A1 getting robbed.
Despite the apparent drama between "Love and Hip Hop Hollywood" stars Lyrica Anderson and husband A1, recent events show they are still very much in love.
We previously reported that Lyrica and A1 Lyrica and A1 are seemingly in the middle of a separation and possible divorce. In addition, the two have chosen to be petty on social media removing each other from their social media accounts and stopped responding to each other publicly.
That is until now. A1 and former LHHH star/hitmaker producer Yung Berg were robbed at a recording studio while posting a live video.
Take a look:
In the video you can see A1 and Berg pissed that someone just came up in their spot with guns and just nabbed their property. They're lucky it didn't get ugly or that someone could have been shot and killed.
At the time of the event, Lyrica was clueless until fans reached out and alerted her. She quickly took to Twitter thanking everyone for telling her: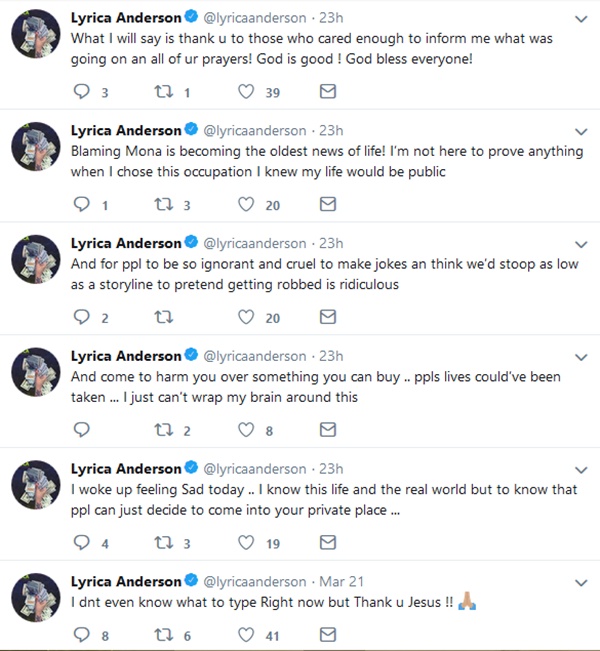 Then, in LHHH5 tradition, she posted a video freaking out and crying.
It all looks great for the camera, plus it makes for good TV and next season of Love and Hip Hop Hollywood 5, despite her comment about "not blaming Mona Scott-Young."
Check it: