With the new season of Love and Hip Hop Atlanta 7 comes a new round of newbies to add some drama to the new season.
Read on to find out who the newbies of Love and Hip Hop Atlanta 7…
CelebNReality247.com would like to introduce you to the new Love and Hip Hop Atlanta 7 cast members kicking off with BK Brasco
Who is BK Brasco?
BK Brasco has been hailed as one of NY's most promising rappers. He exploded to the forefront of the rap scene with the rap group "Brooklyn." BK was discovered by the late Shakir Stuart, but the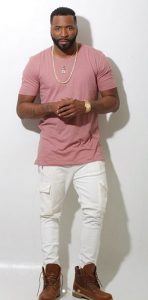 group disbanded BK Brasco was given the opportunity to work with producers and songwriters such as Scott Storch, Polow Da Do, and Sean Garrett.
Later he peaked the interest of rapper / businessman Jay Z and Interscope Records Chairman Jimmy Iovine. BK signed a label deal with Iovine where he worked with Timbaland. Together Timbaland and BK Brasco have collaborated on several international hit records. Their biggest hit to date "Amnesia" reached platinum status in 23 different countries. Bk has his EP "BROWNSVILLE" coming in March.
Next is hitmaker Sean Garrett.
The Atlanta based R&B singer and producer who became famous for writing songs for A-list artists such as Beyonce, Usher, Fergie and Jay Z, among several others. The 38 years old singer producer has been out of the limelight over the past few years. Which leads us to Love and Hip Hop Atlanta 7.
Garrett is the next newbie to join the cast, but we find it interesting that they're trying to play him off as a ladies man. There have been rumors for years that the ladies are just beards for Sean, because he has a partner in his life.
To give you a complete rundown of his accomplishments, Sean first established himself as a hit-making songwriter in 2004, the year he wrote the Billboard Hot 100 chart-topping hits "Yeah!" (by Usher) and "Goodies" (by Ciara), plus the Top Three smash "Soldier" (by Destiny's Child). In 2005 he wrote songs for Mary J. Blige, Mario, 112, Amerie, Chris Brown, Teairra Mari, Omarion, and Donell Jones, including the chart-topper "Run It!" (by Chris Brown). In 2006 he wrote songs for the Pussycat Dolls, Fergie, Beyoncé, Kelis, Fantasia, Diddy, Jamie Foxx, Jay-Z, JoJo, Gwen Stefani, and Monica, including the chart-toppers "London Bridge" (by Fergie) and "Check on It" (by Beyoncé).
Bottom line, Sean Garrett is one sexy chocolate drop, so no matter his sexuality, he is extremely talented.
Keely the Boss is the next newbie:
Keely the Boss has worked hard to become a music industry executive — and for her, the boss moniker is more than just a name; it's a way of life.
Keeley The Boss has made it clear that she has loved music since she was very young and attended her first Michael Jackson concert when she was 3-years-old. She explains that her father made her a boss and her mother made her a socialite. Keely attended Hampton University where she majored in business. Interesting fact, Keely was Gordy's neighbor, further proving that she's a boss. her net worth is $500,000.00
Keeley puts it like this:
DETROIT raised me. HAMPTON UNIVERSITY trained me. NEW YORK paid me. And ATLANTA is where I took over. That's the reason why I can confidently walk it like I talk it
Estelita Quintero La Diosa returns:
Estelita born Estelita Quintero La Diosa, returns to Love & Hip Hop Atlanta with a bigger sotry line since Joseline Hernandez is gone.
Being the Princess of Danger Zone, Estelita is prepared to face her demons and open up about her past — this season, she's going to put it all on the table. She will also be dealing with her old friend Erica Mena.
Mena Monday's are back with Erica Mena:
It's been two years since Erica Mena said goodbye to the Love & Hip Hop franchise, but after a her failed relationship with the pint sized Bow Wow, Mena Monday's are back. Erica is giving Love and Hip Hop another chance but in the ATL.
We will see how it goes, but Mena is trying to once again persue his singing career. This time with Stevie J. Who can forget the Richie D disaster when she lost her song to Olivia because she sang it better.
Meet Toyko Vanity:
We previously reported last summer that Toyko Vanity was joining the cast. She is the Louisiana female rapper who filed a lawsuit against Young Thug back in 2015.
Toyko claimed that they jacked the concept of her song "That's My Best Friend." Thug and his director BeElBe recognized this and extended an olive branch, which she rejected.