Following the Fairytail Real Housewives of Atlanta 11 wedding, Eva Marcille and her husband Michael Sterling took to social media to profess their love.
The Real Housewives of Atlanta couple had a gorgeous wedding despite a tidbit of drama with Kandi Burruss, Porsha Williams, and NeNe Leakes. Read on to see the beautiful and heartfelt words that Michael Sterling wrote for Eva Marcille…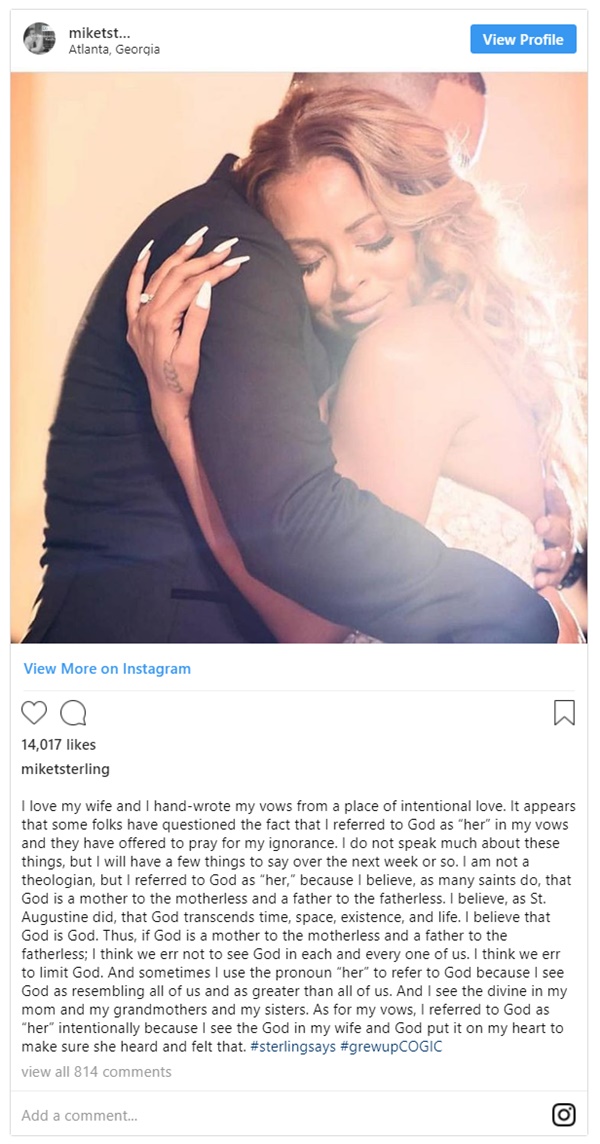 CelebNReality247.com has both letters of love from Eva Marcille + Michael Sterling, who are now Mr. & Mrs. Sterling.
Michael used the same photo of the couple holding each other and kissing saying:
I love my wife and I hand-wrote my vows from a place of intentional love. It appears that some folks have questioned the fact that I referred to God as "her" in my vows and they have offered to pray for my ignorance. I do not speak much about these things, but I will have a few things to say over the next week or so. I am not a theologian, but I referred to God as "her," because I believe, as many saints do, that God is a mother to the motherless and a father to the fatherless. I believe, as St. Augustine did, that God transcends time, space, existence, and life. I believe that God is God. Thus, if God is a mother to the motherless and a father to the fatherless; I think we err not to see God in each and every one of us. I think we err to limit God. And sometimes I use the pronoun "her" to refer to God because I see God as resembling all of us and as greater than all of us. And I see the divine in my mom and my grandmothers and my sisters. As for my vows, I referred to God as "her" intentionally because I see the God in my wife and God put it on my heart to make sure she heard and felt that. #sterlingsays #grewupCOGIC
Eva Marcille-Sterling had this to say about Michael Sterling after reading his open-letter about his newly wedded wife:
I love my husband? @miketsterling