Following the news that Joe Giudice was released from prison last week and picked up by ICE where he is being held until the decision of his deportation is determined.
Real Housewives of New Jersey star Teresa Giudice is reportedly distancing herself from husband Joe Giudice. Read on for more…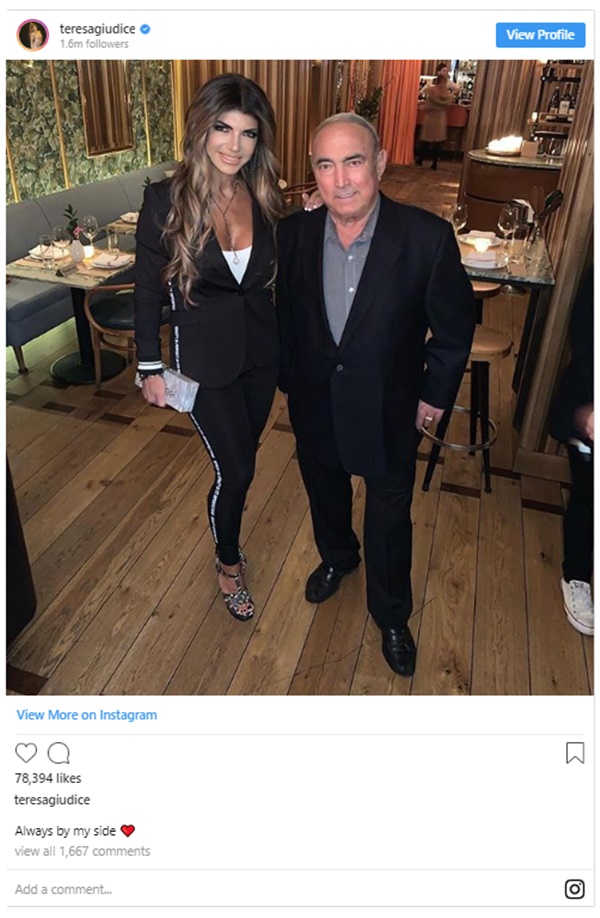 CelebNReality247.com reports that Real Housewives of New Jersey star Teresa Giudice is doing her best to stay focused and be strong for her daughters.
When it comes to Joe Giudice being released from prison last week and immediately handed over to ICE awaiting deportation to Italy, Teresa Giudice was spotted at he brother Joe Gorga's book release party.
Despite how things look with Teresa Giudice being all smiles, deep down, she's reeling inside since her husband Joe's fate of staying in the US is undetermined.
Her brother Joe Gorga, 39, said this about his sister to InTouch:
It's very, very hard. You see, she puts up a good, strong front — she has to. She has to raise her children by herself, so she has to be strong. She can't be weak. You know, you see this tough girl [on TV] all the time, but she's weak.
A source spilled this tea to MTO about Teresa and Joe:
When they do speak, their discussions pretty much surround talking about their girls, updating Joe on their school, friends, normal family talk.
The source added:
They don't talk about their relationship often because Teresa already knows what she wants to do and has made her mind up. She's doing her best to detach from Joe at this point while still being the backbone of her family.
They concluded by saying:
Teresa understands how Joe's situation affects her girls, so she makes sure to play the mother and father role in their lives as best as she can.
On Real Housewives Reunion, Teresa admitted that she was NOT going to do a long distance relationship with Joe. She also said that she knows Joe wouldn't faithful so far away and it's expected.
It's sad to report she feels that she would stay in Jersey and be forced to divorce Joe.