Love & Hip Hop New York fans we just got some tea on Rich Dollaz who is dating MariahLynn who is 28-years-old.
According to reports Rich Dollaz has been lying about his age on Love & Hip Hop New York. Read on…
CelebNMusic247.com reports after the Love & Hip Hop reunion aired on Monday night, the reality star told the audience that he's 41 years old.
Yeah, Not so much. As soon as Richie D said he was 41, dirt diggers were hard at work to get some evidence he was lying and they did.
Rich Dollaz is actually turning 48 years old in a few months, which makes him 20-years-older than his girlfriend on the show, Mariahlynn.
To prove he was lying MTO managed to get an old mugshot from a few years back when Rich was arrested for failure to pay child support.
The arresting officer noted his real age.
Yeah, sorry Rich, stop telling lies man.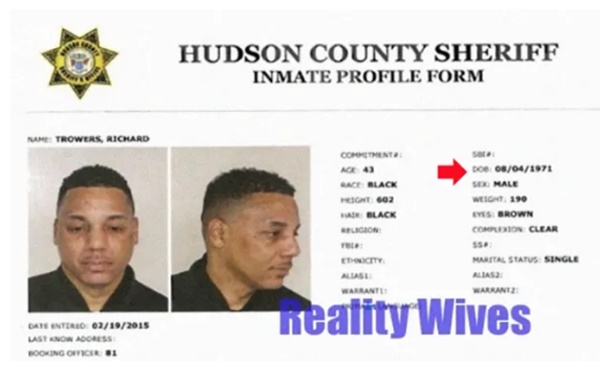 OMG, so embarrassing.
Rich has been a part of LHHNY since the early days, first as a supporting cast member ( he was R&B singer Olivia's manager). Eventually Rich managed to move into the main cast. He eventually went on to star in other Love & Hip Hop Spinoff shows, including L&HH: Hollywood & Atlanta.
He has attended 10 Love & Hip Hop reunions since he was part of Hollywood & Atlanta.
One of the highlights of Love & Hip Hop's New York reunion was when Rich and Safaree got in a heated discussion about Erica Mena. Safaree refused to speak about her, so Dollaz got froggy and leaped at Samuels but security snatched him up. The argument spilled over backstage, but Safaree seemed unbothered as he teased Rich about his wardrobe and egged on his anger.
According to HotNewHipHop:
It didn't seem as if Rich was looking for a fight considering he'd been quite clear that he has no feelings for Mena, nor does he have a problem with her and Safaree being together. He just thought that since he'd previously asked Safaree if he was dating Mena and Safaree denied it, it was a tad disrespectful and unnecessary to lie.