Sorry Milan Christopher fans, but there won't be any more man on man story lines on season 3 of Love & Hip Hop Hollywood and now Milan Christopher is speaking out!!!
Flip and get more tea on why Milan Christopher was FIRED from Love & Hip Hop Hollywood…
CelebNReality247.com has just learned that VH1 and producers initially wanted Milan to come back for Season 3 and even offered him a contract, but said things went south when Milan supposedly asked for a pay raise.
Yes, Milan thought he deserved more money…Too soon!
An inside source is revealing why Milan got himself fired from the series:
"He wanted WAY more money and felt like he brought so much to the show."

"Milan felt like he was one of the bigger stars on the show and brought most of the ratings to Season 2. This should have been leverage for him, but it didn't."
According to the outlet, producers also thought Milan was being a "diva" during the reunion, and was difficult to work with. The source said everyone "bent over backwards" for him so he could "share his storyline and his side of what went down … with him and Miles [Brock]."
Over the weekend, Milan addressed his exit encouraging fans to reach out to VH1, "Love & Hip Hop: Hollywood" and show creator Mona Scott Young about him not being asked back for the new season.
Milan is claiming another story saying:
"The million dollar question in my DMs, Twitts and inbox…Unfortunately.. I will not be on this season of @vh1 @LoveHipHopVH1 #LHHH why? I don't know. Life goes on TheresMoreGreatThingsToCome ? if you have issues with this decision or would like to know More please feel free to contact @VH1 @Loveandhiphopvh1 or @MonaScottYoung and tell them how you really feel about my absence . love you guys! #StayTuned"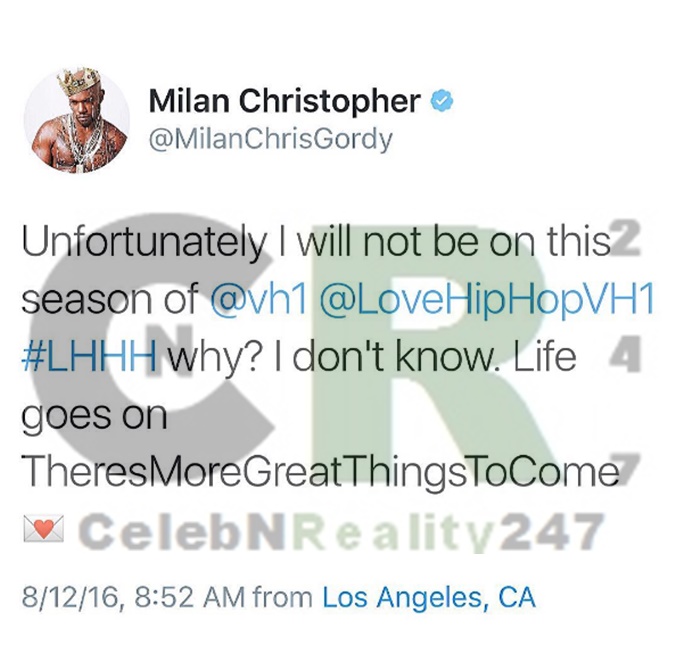 While LHHH3 premiere was airing tonight Christopher adds:
""Surround yourself with people who fit your destiny not your past" ?? #Mcm #Mondays #Happy #MilanMondays ??" (photo above)
He followed it with another IG saying:
"The dance you do when you realize you are good & loved by so many! #LoveYouGuys so much. Like really I do. I really appreciate all the love and support today! This ain't no #LoveAndHipHop #LoveAndHipHopHollywood #Lhhh3 this that real ?? from a real G!"
He posted this video with it:
Milan is gorgeous, there is no denying that, but he tends to get a bit over zellous, so we understand that he could be a bit much sometimes. However, so can a lot of the cast members, but they are more established names. They have more than a decade in the business even if we haven't heard from them in years. Milan was the newbie of the bunch and asking for more money was probably the problem.
But he is not worried obviously, so here is a photo that helps to express his thoughts of his FIRING: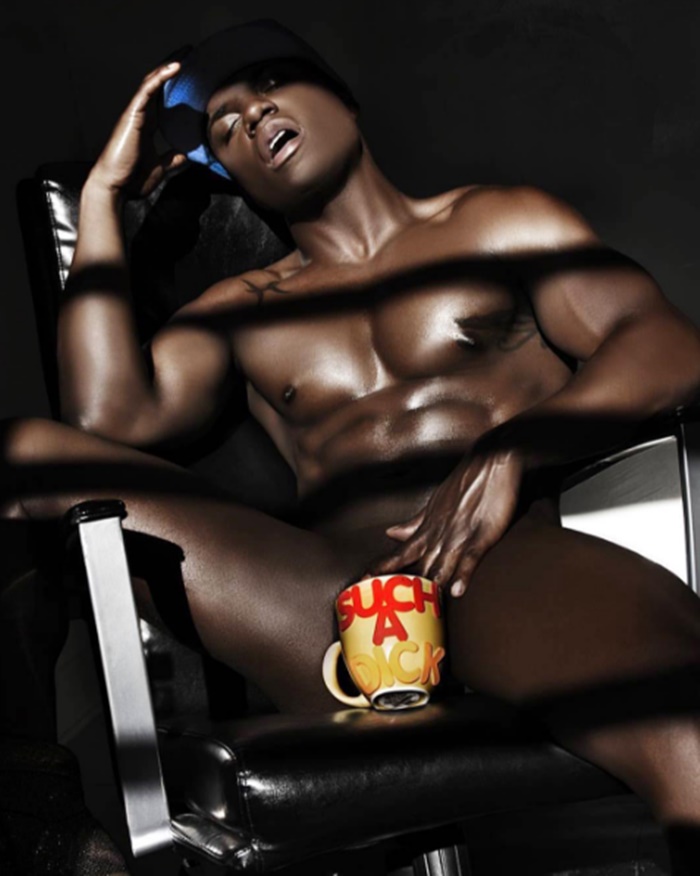 What do you think about the new season without Milan Christopher?
Thoughts?