Bad Boys Club LA Star Milan Christopher Wants Baby Via Surrogate
Milan Christopher is offering $50K to a woman willing to be the surrogate! Christopher is ready to have his own family with a little nugget in his life…
CelebnReality247.com reports that Milan is tired of dating men that are untrustworthy. He complained about dating the wrong guys who are all "whores."
My problem is I always fall in love with whores.. ?

— Milan Christopher (@MilanChrisGordy) May 11, 2022
Recently he gifted his castmates his adult toys and the reviews are "it was amazing!"
This week Milan apparently had some time to reflect on what is next for him and he is ready to be a dad.
The 38-year-old Bad Boys Club LA star recently took to social media announcing that he wants to have a baby.
Milan said:
I really want to have a baby this year – is there any intelligent, healthy, beautiful, sane women – who want to have a baby with me? The last time I went through a clinic & the fetus didn't make it. But I'm not giving up! I know 50k cash isn't a lot of money but that's my bonus!
He added in a now deleted Tweet:
I'm ready for a little nugget…$50k to the lucky surrogate woman!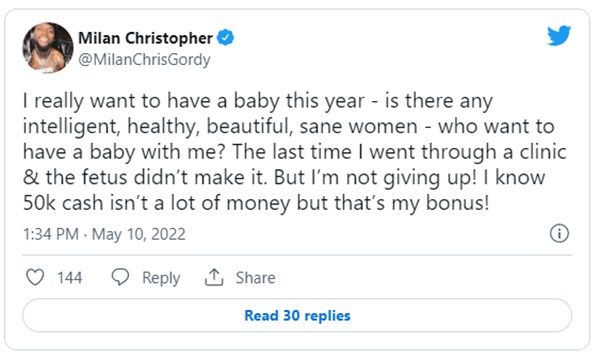 According to social media it seems that Milan may have decided to quit Bad Boys Club LA.
We will keep you posted. And we also think this is great news. Good luck Milan.