At the end of Love & Hip Hop season 6 reunion, Rich Dollaz gave another shocking reveal that he was heading back to LA to get his girl Moniece Slaughter. The only problem is Moniece Slaughter Checks Rich Dollaz At The Door!!!
Find out what Moniece Slaughter said about Rich Dollaz on the flip…
Rich Dollaz revealed to host Nina Parker on the Love & Hip Hop season six reunion that he was in love with Moniece Slaughter and he wants her back!
There is only one problem is Moniece Slaughter is NOT hearing it! Remember Rich and Moniece had a huge falling out at the Love & Hip Hop Hollywood 2 Reunion. I
In fact, Moniece called out Rich Dollaz for being fraudulent at the reunion. Despite having a breakdown backstage during the LHHH3 Reunion, Mo called him out, but the question still stood is Richie done with his LA girl?
Apparently NOT!  Since then Moniece gave Cisco Rosado the bird and then rumors that she was a lesbian got shut down after Milan Christopher confessed that they were good girlfriends and not intimate at all!
And now, she is NOT believing one word that is coming out of Richie D!
[rpi]
The Love & Hip Hop Hollywood's star Tweeted:
"You guys can all calm down. He's not coming to LA…I'm a single lady…I've been a single lady for almost a year now!"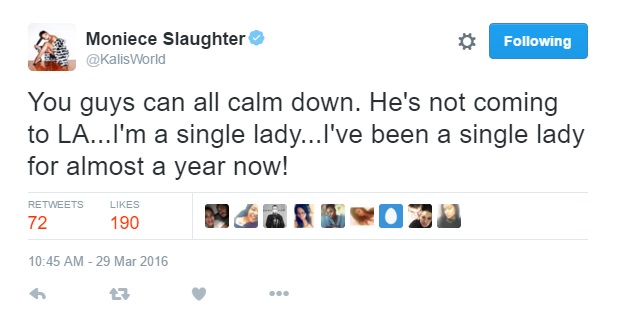 Was Richie's claims made for TV? Do you think he will return to Love & Hip Hop Hollywood for season 3 and  fix things with Moniece?
What do you think about Moniece Slaughter Checking Rich Dollaz At The Door?