Peter Gunz and Cisco Rosado Caught Fist-Fighting!
Love & Hip Hop alums and creep squad buddies, Peter Gunz and Cisco Rosado got into a fistfight yesterday in Atlanta. Continue on to see Peter Gunz and Cisco Rosado fight…
CelebnReality247.com reports that Peter Gunz and Cisco Rosado are preparing to box each other for a celebrity fight, but things went left at the promo party.
Yesterday they were in Atlanta promoting the fight. Peter Gunz was not able to contain himself threw a punch at Cisco Rosado and it landed in his chest.
Right in that minute, Cisco quickly responded and threw two punches at Peter Gunz's face, but neither landed.
It seems that the two reality stars have some unfinished business between them and the upcoming fight will resolve their issues, or not.
Gunz was once close friends with music executive Cisco Rosado before their falling out.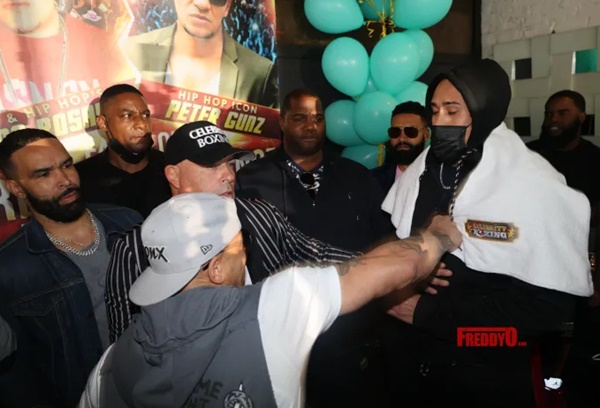 Thanks to Debra Antney–CEO of Mizay Entertainment and mother of rapper Waka Flocka was in the house and caught all the action. She posted an Instagram video showing Peter Gunz and Cisco Rosado getting into a physical altercation.
In the eight-minute-long video, viewers can see the LHHNY stars at the "press conference," where Peter Gunz is seen approaching Cisco Rosado while the coordinator can be heard saying "you can't touch each other" at the 1:10 mark.

At the 1:49 mark, there appears to be a jump cut where we then see Peter and Cisco in a squabble, and Cisco is seen being escorted outside the premises at the 1:56 mark. As a result, the specific details of the altercation–including who started it–are unclear.
The remainder of the video shows event-goers talking with Cisco and then returning inside the event, with Peter no longer in sight.
View this post on Instagram
View this post on Instagram