Porsha Williams' Fiancé Simon Guobadia Selling Home on RHOATL!
According to reports, the home that Falynn Guobadia was living in while married to Simon Guobadia is on the market for close to $5 Million.
View this post on Instagram
CelebnReality247.com reports Porsha Williams' fiancé Simon Guobadia is selling the Atlanta home he shared with his soon-to-be ex-wife Falynn Guobadia.
The Buckhead estate, which was featured on the reality show, has a whopping six bedrooms and nine bathrooms. The mansion is 13,500 square feet, and the listed price is just under $5 million.
Simon Guobadia and Porsha Williams have caused quite a stir in the media after they announced their engagement.
The reason, well, lets just say it looks a bit stank since Simon Guobadia's estranged wife Falynn Guobadia appeared on season 13 of RHOA as Porsha Williams' friend.
Then after only dating a month, Porsha Williams announced she is engaged to Simon. Latoya ripped into Falynn for being a gold digger and now Porsha is doing the same thing?
NOTE: Falynn Guobadia and Simon Guobadia were still married at the time.
So does that make Porsha a homewrecker???
Wow.
Anyways, check out what she wrote: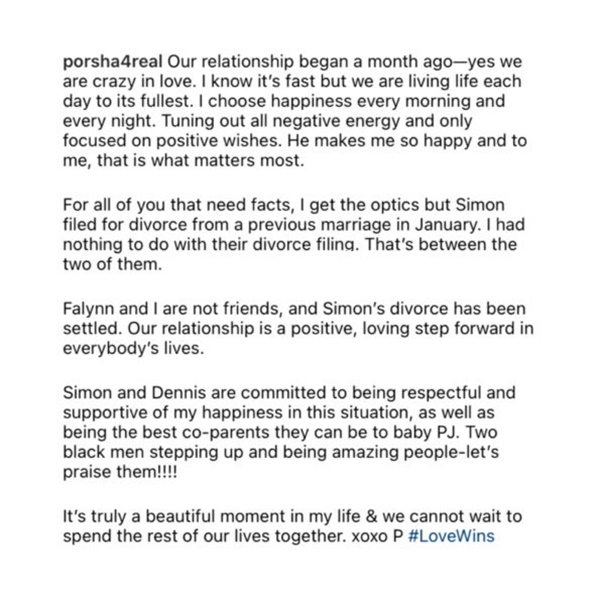 Porsha Williams is a smart cookie, she comes off playful, but as Kenya Moore said, she is calculated and you have to watch her. Marlo feels she is untrustworthy and we are seeing exactly what they are talking about.
It appears fame has truly gone to Porsha's head and she will do anything to keep a storyline going.