Real Housewives of Potomac Star Ashley Darby Filed for Legal Separation From Michael!
Yes, this happened! Finally Ashley Darby has come to her senses. The Potomac Housewives star just officially confirmed the news….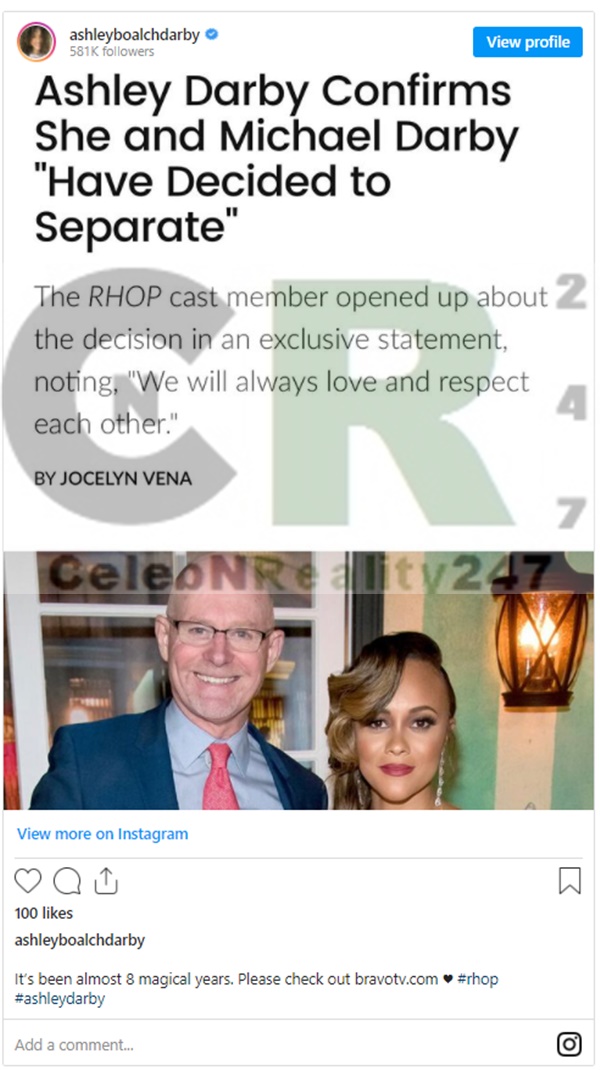 CelebnReality247.com has just received word that 'The Real Housewives of Potomac' star Ashley Darby has filed for legal separation from husband Michael Darby.
News of Ashley and Michael's separation was first reported by Kempire. The Youtube channel reveals that the couple are moving forward with a divorce.
But the news comes after Michael was spotted with yet another woman earlier this year. The creeper has been accused of so many things over the years, from touching on another man's butt, saying he would s–k Juan Dixon's d–k and being spotted with another woman, and cheating.
Ashley has been denying it for years, but now she has finally woke up and filed for legal separation which will lead to divorce.
LoveBScott got the exclusively confirmation first that Ashley filed for legal separation in Virginia as a precursor to divorce via a source.
The cameras have been rolling and they've been getting all the tea regarding The Real Housewives of Potomac.
In the state of Virginia, it is required that you live apart from your spouse for at least a year before you can file for uncontested divorce.
Ashley and Michael's relationship troubles (and Michael's infidelities) have been well documented on 'The Real Housewives of Potomac,' and this upcoming season will document their separation.
The couple has two kids together, 2-year-old Dean and 1-year-old Dylan.
You already know this will be Ashley Darby's storyline for the upcoming season. And no worries, she should be fine since Michael Darby has a net worth of $20 million.