The Real Housewives of New Jersey reunion is finally behind us. However, when it comes to Teresa Giudice and Jacqueline Laurita, there is no reconciliation on the horizon for these former BFF's!!!
Flip and find out more on the outcome of Teresa Giudice and Jacqueline Laurita…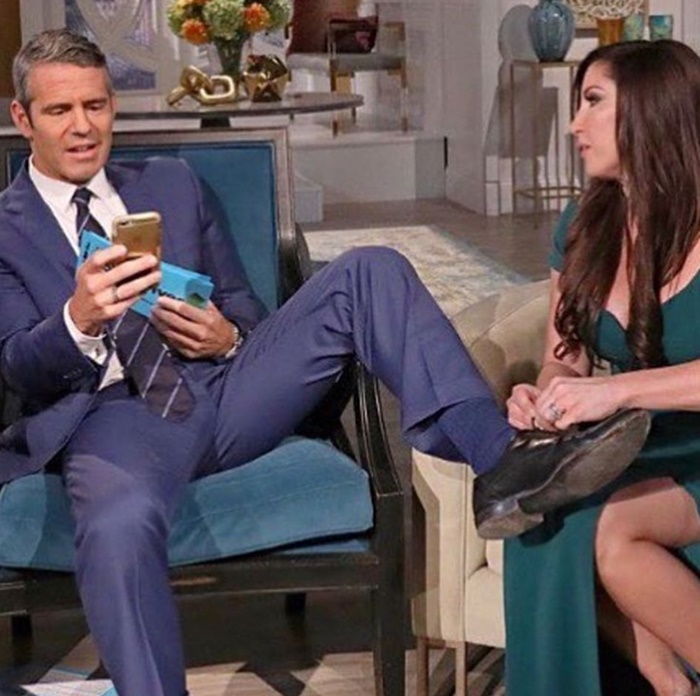 CelebNReality247.com has this insight for you Real Housewives of New Jersey fans, since Teresa and Jacqueline had a come to Jesus moment and vowed to end their ongoing battle.
Jacqueline told Teresa:
"Let's agree to disagree. We're never going to be friends again, that's fine. When we're around each other, let's respect our boundaries. We both said terrible things. I would like to get to a place — we don't have to be friends, we don't have to go deep — we don't have to do any of that. [But] from this moment forward, I will not utter a bad word about you."
Shockingly enough, Teresa agreed saying:
"Please — I beg you — don't hurt me and my family. If anybody wants to talk to you, don't talk to them. Peace that's all I want. Peace."
Shortly after the reunion aired,Jacqueline tweeted that she will stick to the deal with Teresa.
Jacqueline writes:
"As agreed upon at #RHONJ reunion, after tonight's final episode & blog, I'll stick to the deal we made. There will be peace on my end."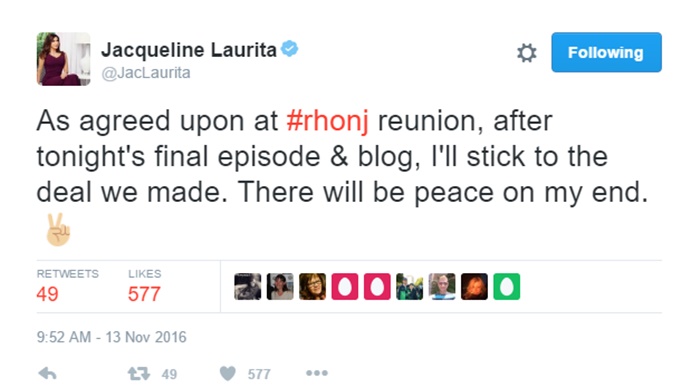 As for Teresa Giudice. It's radio silence. We guess time will tell all with these two. Maybe they should just leave everything in the past and start fresh. A feet that is obviously hard for "Mrs Why, why, why" Jacqueline.
We feel a truce is honestly what both Teresa and Jacqueline need. Neither of them need this negativity in their lives. Plus, if you really think about it, Jacqueline creates 99% of the drama and negativity in her on-again, off-again friendship with Teresa.
In actuality Jacqueline NEEDS to just stop. Do you think Bravo will bring Jacqueline back for season 8?
via