RHONJ: Joe Gorga Blames Joe Giudice For "Ruining Family"!
It's no secret that Joe Gorga and Teresa Giudice's ex-husband Joe Giudice are NOT friends. That is why Gorgas and the Giudices are what makes Jersey so great, particularly the tumultuous dynamic between Tre, Joey Gorga and Melissa Gorga.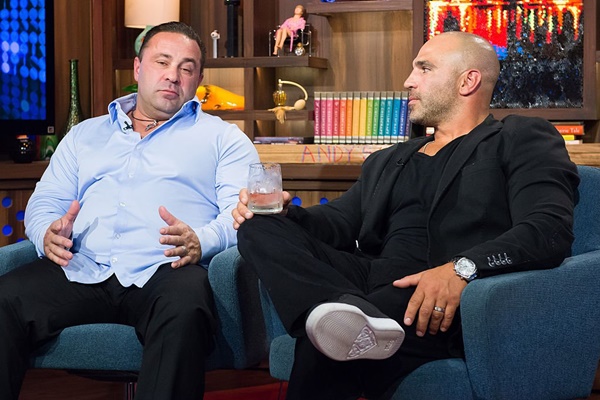 CelebnReality247.com reports that Real Housewives of New Jersey Joe Gorga spoke out about his sister ex-husband.
Of course, Joe Gorga is the unofficial seventh housewife, and some (Jennifer Aydin) argue more deserving of a starring role than his wife.
Despite the fact that Joe Gorga learning how to let his wife be more independent because he doesn't want to be referred to as chauvinistic. The life of the party Joe and his decades-long feud with Joe Giudice doesn't seem to have died down at all.
The Gorga's and Joe Giudice have been going at it off camera over the past year on social media with Juicy. Giudice has been slamming the couple every step of the way. Most recent, Juicy threw some really low blows at Joey outside of calling his wife a raccoon-face and using her for clickbait. Joey has a message for Joe Giudice.
He went as far as to accuse him of stealing money from his parents. And Joe has blamed the death of his parents on Juicy, which hit their former son-in-law deep. These two were never meant to get along. And now that Tre has a new man, they really don't have to.
Joe Gorga appeared on Watch What Happens Live after this week's RHONJ episode alongside the other HouseHusbands of New Jersey.
When asked by Andy what he thinks of Juicy's recent comments about the Gorgas.
Joe Gorga said:
I don't listen to his comments. With his comments, he's in La La Land. Nothing bothers me, it just shows the type of man he is.
While he claims it might not bother him, there's no doubt some of his Instagram selfies accompanied with quotes are aimed at Juicy. I'd bet money on it.
Check these out. Joe indirectly is FIRING shots at Juicy Joe Giudice:
View this post on Instagram
View this post on Instagram
Tarzan continued to answer the portion about his sister, commenting on the "nasty things" Juicy says to his ex.
Joey said:
As a brother, she confides in me. I get very upset, so I get so mad when she kind of defends him because he just treats her very bad off-camera, in life. And he put her in person. And her ruined our entire family, so I'm just not happy.
You can't blame Joey for having such bad blood with his Tre's ex. He's been accused of cheating, talking down to her, and literally is responsible for putting her in jail.
He got deported away from his four dorters, leaving Tre and Joey to pick up the pieces.
Why would Joey like him? It's odd enough that Juicy and Tre have such a friendly and positive relationship post-divorce.
View this post on Instagram
The reunion is around the corner, so we will see what happens at the explosive New Jersey Housewives reunion. be ready!