Oh did you think we were going right out tell you who the Winner of RuPaul's Drag Race Is, before you watch Bob The Drag Queen, Kim Chi and Naomi Smalls lip Sync one last time for their lives???
Find out who the Winner of RuPaul's Drag Race Is on the flip…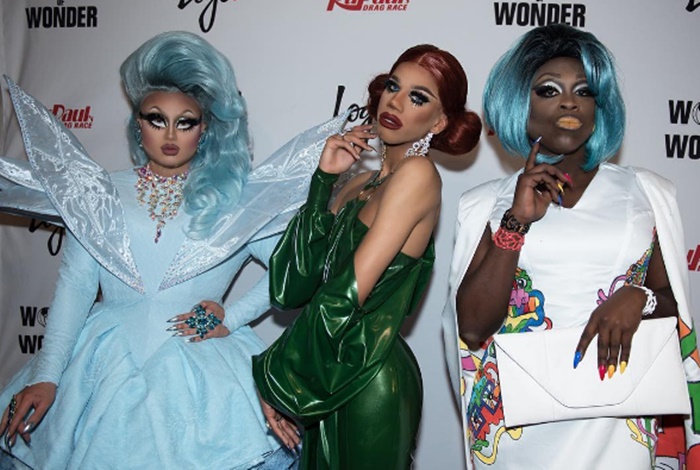 Tonight on the big finale of RuPaul's Drage Race it was a hard choice on who was going to be crowned Queen of Season 8, but first let us take you back to the last 12 episodes and recap the best of Bob The Drag Queen, Kim Chi and Naomi Smalls.
Things kicked off in a royal way with RuPaul and her intro to the Drag Race Finale. Ru and the seven other "Drag Race" winners (BeBe Zahara Benet (Season 1), Tyra Sanchez (Season 2), Raja (Season 3), Sharon Needles (season 4 ), Jinkx Monsoon (season 5), Bianca Del Rio (Season 6) Violet Chachki (season 7)) graced the stage.
Ru started off things looking fierce and stated:
"I have a thought, take a picture it'll last longer."
Watch:
First up is one of our favs, Bob The Drag Queen. BOB has been a activist for gay rights, he has been a pioneer in his own sake and continued to push the envelope for drag and more. Purse First darlings! BOB has some of the most memorable moment on season 8. Not only is Bob The Drag Queen funny moments, he is a true talent to be reckoned with.
Take a look:

Next up is our ultimate fav, Kim Chi. Nothing taste better than some Kim Chi in your live not only does she serve fashion forward looks and Anime fantasy style drag, Kim Chi helps to prevent cancer. The one you buy in a jar, but the Kim Chi on stage is fierce!
When it came to the Lip Sync battle, BOB was it hands down. Even with the Q&A portion as well.
Now let's get down to it, Bob killed it with a stellar rendition of "I Don't Like to Show Off" that was as tight as her Daisy Dukes. BOB was surprised by Ru with a video greeting from not only her mom but also the legend that she'd channeled during Snatch Game: Carol Channing, who sweetly thanked her for her "colorful impersonation."
Next was Kim made the most of the safe but clever moves that were choreographed for her performance of "Fat, Fem and Asian." (Nothing could help that lip sync, though.) Afterward, given a fan's question — to which member of the Pit Crew would she like to lose her virginity? — she hilariously replied, "I'm not trying to catch anything, so I'm gonna say none of them." #shade
Last was Naomi Smallz who kicked up her heels with an homage to her amazing gams, "Legs," introduced her adorable mom in the audience and received a video shout-out from Game of Thrones' Lena Headey, who playfully told her to "Cirsei that walk."
Next Ru had to interview all of the also-rans first. "My grandmother calls you Ron Paul," admitted Laila McQueen. Cynthia Lee Fontaine revealed that she was a liver cancer survivor. Acid Betty got props from the only person who'd been into her Snatch Game impression of Nancy Grace: Nancy Grace. Thorgy Thor, discussing her dream of founding a Thorchestra, demonstrated her skills with a violin.
And finally, Miss Congeniality was announced. Season 7's Miss Congeniality Katya came out to announc the winner which was Cynthia.
Start your engines because here is the big reveal, Ru announced that Violet Chachki's successor was Purse First Bob The Drag Queen Wins!!!!
Congrats Bob we love you… you are an inspiration to us all! And is your brother single?
We also have the video "The Realness" which Bob The Drag Queen, Kim Chi and Naomi Smalls are featured in.
This season of RuPaul's Drag Race was the Sickest! We can't wait for season 9 coming 2017!
Watch:

Did you watch the extravaganza tonight? if not you need to watch the season finale it's to die for! Litterally.