Last week Stevie J made headlines when word got out that the Love & Hip Hop Atlanta star married Faith Evans.
If you watched Leave it to Stevie then you know that Steven Jordan has been in pursuit of marrying Faith for a few years now.
The two seem to have chemistry and apparently, Stevie J finally wore Faith Evans down and put a ring on it. Continue on, and see what else Mr. Jordan did…
CelebNReality247.com has the latest from Stevie J who posted on social media that he got Faith Evans initials tatted on the side of his face.
Stevie J and Faith Evans marriage threw everyone off and we are all wondering if it is real.
Faith Evan revealed a marriage licence this week so we know that Stevie is pulling another fake marriage like the one to Joseline Hernandez.
Despite the rumors that Stevie J and Faith Evans marriage was just one big PR stunt to move for their upcoming single that drops on Friday.
Stevie took to social media to prove his love for his wife.
In the wee hours of this morning, the producer posted a little picture that proves that this new union isn't going away anytime soon.
Faith Evan's is immortalized on the side of Stevie J's head.
He captioned the photo, which shows off his new tattoo of Faith's initials right outside of his ear:
All I desire to hear in my world.
In addition to his new ear tattoo, he also has an "F" on his middle finger for his "baby." If this marriage doesn't last, at least his tattoos will.
You might remember this moment during Leave it to Stevie when he was talking about Faith to Yung Joc.
Faith even made sure to end the naysayers by posting this blurred photo with the caption, "The Jordans!"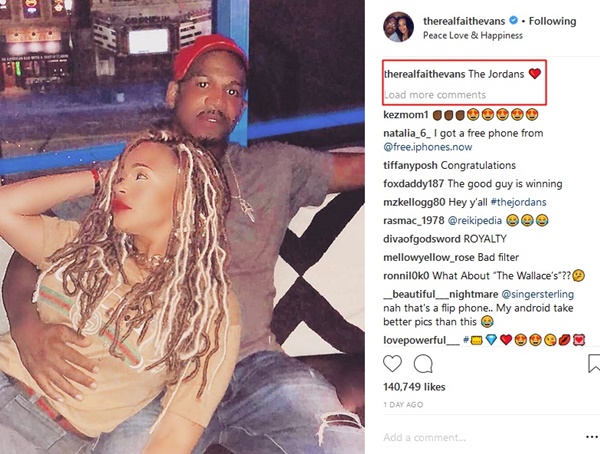 And over the weekend Faith posted this Instavideo:
Hey, anyone is better than Joseline Hernandez. Stevie J seems to be happier than ever and so does Faith, so we wish them both a happy successful life.
Good luck you two.