Tonight on Love & Hip Hop Atlanta the feud continues with Betty Idol, but Tammy Rivera Questions D Smith and why she no showed to her event!!!
Find out what went down with Tammy Rivera, why Betty Idol got her hair ripped out, why D. Smith and Tammy fought and how Bambi proves she's in corner on the flip….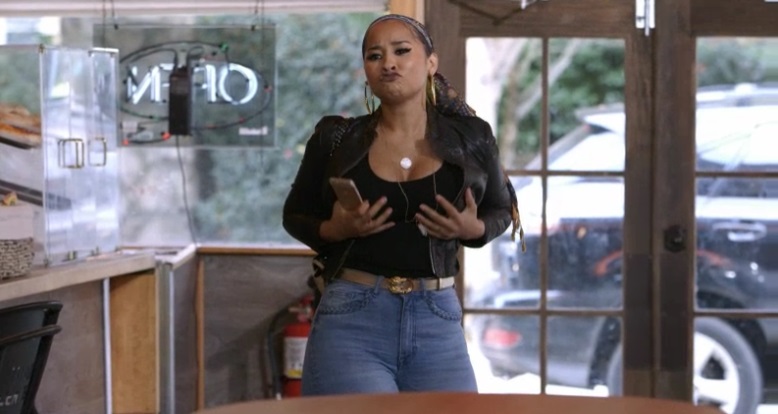 LHHATL5 picked up with Tammy and Betty Idol fighting while drinks are flying and hair is being pulled fight and security breaking things up. We Tammy is crunk and Betty is outside in her ride screaming the "B-tch pulled out my hair….this is my real hair."
We understand why Tammy got gully and jumped over the table. Betty, may be a song writer, but why is she coming at Tammy so hard like she knows the tea. She stepped into an issue that is about D Smith. Something that D Smith should address herself, but instead D. got her minion to do her dirty work.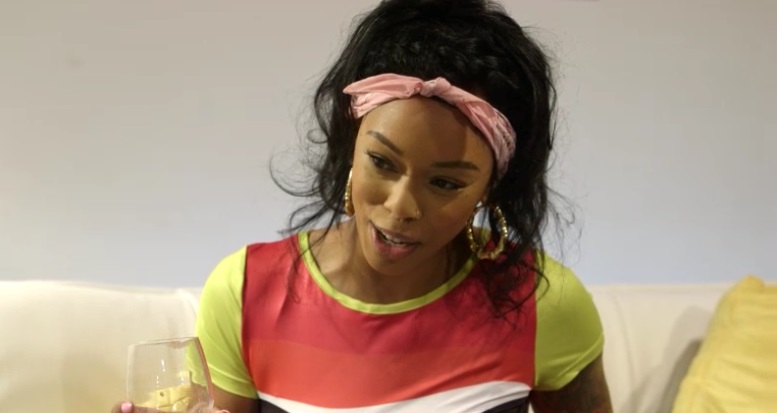 Later Tammy talks with Waka and what went down. He tells her to chill and dust it off. The next time we see Tammy is at her event hanging with friends. She tells everyone about the drama that happened and when she says Betty Idol's name, and instantly Bambi reacts calling her Betty No Idol. Bambi talks about a snapchat video that was posted by Scrappy that she felt was offensive since their break up is still fresh.
The next day Tammy meets with D. Smith to ask why she didn't show. D says that she doesn't hang in that scene or with those types of people. The two talk and Rivera tells Smith that she still wants to work with her. D replies saying no you don't want to work with me because you don't want to deal with Betty, who, as we see has nothing to do with working with Tammy, but they tight like that.
Tammy tells her she is trying to help her be a model and D. Smith snaps saying she models when she walks down the street or when she looks at her teeth in the mirror. Tammy has no clue what D. Smith has done or that she's a Grammy award-winning producer, but that seems to be how the A works, if you're not talked about then you're not doing nothing.
A word to Tammy "Girl do your research so you can stop looking stupid."
Next we has a webisode from Love & Hip Hop Atlanta where Tammy Rivera and Bambi talk about Scrappy and how she just up and left him. Bambi says that she just left, but the breakup was not to be permanent at first, but after time passed the two decided that they were better friends.
[rpi]
Bam goes on to talk that she ended up leaving her dog and wants to got get her. Meanwhile Tammy talks about how she is in a huge home and Waka is never there. She complains that she is lonely, but what did she expect when she married a rapper?
Plus she is not alone, what about their daughter? Where is she when Tammy and Waka are not home?
Tammy and Bambi chat about Scrappy and Waka over a glass of wine.
While everyone was watching Love & Hip Hop Atlanta 5, Tammy took to social media to pen a touching letter to The Bam, which reads as follows:
"It's been a rough month for me.. And I've learned to keep everything inside and keep on working pushing and moving.. Sometimes you forget who you are! But when you have real friends that can remind you just how special you are and how valued you are! It's an amazing feeling… @adizthebam I love you yoo! And you don't know how much I needed this!?? #RealFriends #MyNigah p.s yes I took a picture before I wiped away my tears cause I wanted my friend to see how much she touched me!"
Bam knew how hard the past month was for Tammy so she sent her these roses, just to wish her well. The flowers brought tears to Tammy's eyes, and she made sure to capture it for all to see.
Take a look: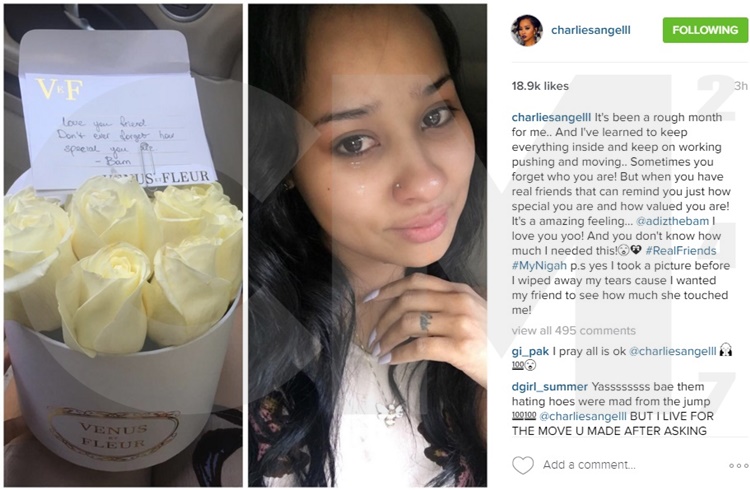 Thoughts?
Photo: Intagram/Tammy Rivera